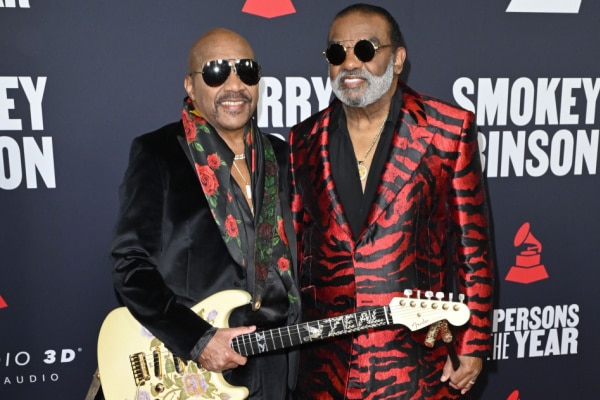 Would you like to listen to the article instead of reading it?
Rudolph Isley, co founder of The Isley Brothers, has died aged 84.
The Isley Brothers were founded by brothers Rudolph, Ronald, Vernon, and O'Kelly. Following Vernon's death a year later, the group reunited as a trio, with Ronald as lead vocalist.
The group who were renowned for hits including 'Twist and Shout', as well as 'Testify', which featured a young Jimi Hendrix on guitar. Hendrix started out as lead guitarist for the band between 1964 and 1965.
In fact, 'Twist and Shout' was a track loved by the Beatles, so much so that the fab four used it a closing track for their album 'Please Please Me' in 1963.
Other tracks released by the Isley Brothers also include 'This Old Heart Of Mine (Is Weak For You)' and the Grammy Award winning 'It's Your Thing'.
The 1970s saw brother Ernest and Marvin also join the band, and further success followed, with albums like 'The Heat Is On and Go For Your Guns'.
In 1986, O'Kelly died from a heart attack, while battling cancer. Following this, Rudolph left the band to practice as a Christian minister.
While he occasionally reunited with the band, Rudolph was not present when the Isley Brothers were inducted into the Rock and Roll Hall of Fame in 1992.
"gained another angel"
Rudolph Isley's death was confirmed by the band, who posted this wholesome message via social media.
"Heaven has gained another angel. Our hearts are heavy as we announce the passing of our beloved brother, Rudolph Isley", they wrote.
"As we navigate through this deep sorrow, we kindly ask for understanding and respect for our family's privacy during this challenging time. Remember to hold your loved ones close. We will miss our brother but we know he's in a better place. Forever in our hearts".
Ronald Isley also paid a separate tribute to his brother.
"There are no words to express my feelings and the love I have for my brother. Our family will miss him. But I know he's in a better place", he said.
Rudolph's daughter also shared a statement via attorney Brian D Caplan.
"Rudolph Isley, a founding member of the world famous Isley Brothers, died peacefully in his sleep on the morning of October 11, 2023. He died at his home, with his devoted wife Elaine by his side. They had been married for 68 years. Rudolph was a deeply religious man who loved Jesus", she said.