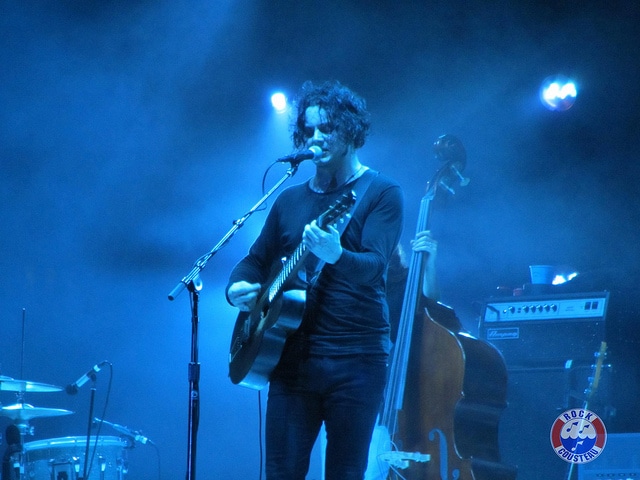 Early White Stripes recordings are coming out, Jack White's Third Man Records are releasing a live double LP vinyl.
The album Live Under The Lights Of The Rising Sun, will have two complete live sets from the band's first overseas trip to Japan.
The live songs were recorded in 2000, they feature an early demo version of 'Dead Leaves And The Dirty Ground', a cover of Iggy Pop's 'I'm Bored' and the 5.6.7.8's track 'I Walk Like Jayne Mansfield' from the Kill Bill Vol. 1 soundtrack.
Here's a snippet of 'Hello Operator' live, listen below.
The LP will also include two new songs from White's supergroup, The Dead Weather. The band is composed of, Jack White (formerly The White Stripes), Alison Mosshart (The Kills), Dean Fertita (of Queens of the Stone Age), and Jack Lawrence (of The Raconteurs).
They put out a teaser of their new song, check it out below.
The Dead Weather's first live appearance was at the 2009 opening of Third Man Records in Nashville, Tennessee. In 2010, Ireland had the first release of the band's second album Sea Of Cowards. The group are expected to record a new album in 2015.
Jack White has been very successful with vinyl releases. His latest solo album Lazaretto, sold 40,000 vinyl LPs in June. That is a huge landmark, it's the largest sales week in vinyl for any album since SoundScan began to record data in 1991.
If you're one of the people that bought a copy of Lazaretto on vinyl, here's a little secret. There are two hidden tracks that can only be played when the label in the center of the record is removed. The album is also a three-speed record, the two secret songs are played at different speeds. One must be spun at 45 RPM, the other needs 78 RPM. The rest of the album plays at a different speed.
If all that music wasn't enough, included with the vinyl package are photos of The White Stripes concert in Japan and a Third Man Records flag.
The deadline to subscribe for the 21st Vault Package is July 31.