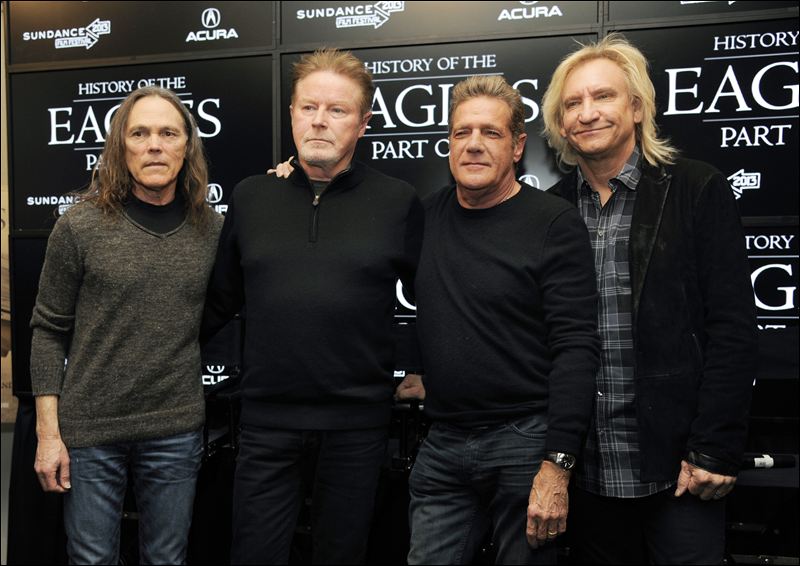 Recession..?..What recession?. As I write this, I am hearing that due to phenomenal demand, The Eagles have added a third date to the Irish leg of their World tour at the O2 on Saturday June 7th next year.
The group will be performing some songs never before performed live , as well as songs featured on 'History of the Eagles' , the band's acclaimed documentary.
The Eagles –  Don Henley, Glenn Frey , Joe Walsh , and Timothy B. Schmit have sold over 150 million albums since their formation in 1971, and the story of the band is full of rumours and showbiz whispers –  They travel on separate jets, stay in different hotels from each other, and so on. I have interviewed various members of the band over the years and maybe some of the stories are true , but they aren't saying!
I spoke to Joe Walsh a few years back and he was great , telling stories of being a morning radio presenter, burning the candle at both ends, and finally crashing and burning! These days Joe is clean and sober, hangs out with his brother in law Ringo Starr,  and is the guy the audience relates to, mostly as he really appears to enjoy himself, rather than just the usual 'hello Ireland!'.
Henley and Frey are the main men in the band , and lest anyone think otherwise, Henley is not always an idealist. In a March 2001 interview he stated that "rock bands work best as a benevolent dictatorship," with the principal songwriters in a band (in the case of the Eagles, "me and Glenn Frey") being the ones that will likely hold the power'.
The group have a history of scraps and lawsuits, but have one of the most powerful managers in Rock and Roll, Irving Azoff, a former ceo of Ticketmaster and executive chairman of Live Nation. Henley describes him in the History of the Eagles dvd as 'some say he is satan,  but he is OUR satan!.' Always a great gig, The Eagles at the 02 on June 7th 2014. Tickets are on sale this Monday 25th, at 9am, but you can win them with me all this week on Nova….
Til the next time..
Greg Gaughran – Weekdays from 10am on Nova