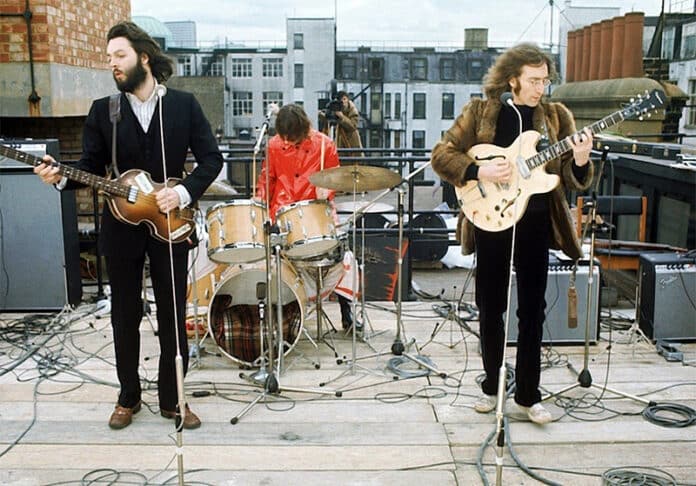 Never before seen footage in Peter Jackson's film depict The Beatles' final year-and-a-half together more so of joyous times, than what we were led to believe. After their breakup, rumours surfaced that the band were driven apart by business issues, Lennon's obsession with Yoko Ono and 'hostile lethargy'.
However, Yesterday filmmaker, Peter Jackson wants to show the hidden moments of joy and craic that the lads shared, contrary to reports of hostility within the group. Jackson offered a sneak preview of his latest project with a five-minute YouTube glimpse of The Beatles: Get Back.
"We've got 56 hours of never-before-seen Beatles footage," Jackson said. "It's great stuff. It gives you a sense of the spirit of the film that we're making. Hopefully it'll put a smile on your face in these rather bleak times."
Jackson said he was relieved to discover the reality is very different to the myth, noting that there were moments of drama "but none of the discord this project has long been associated with."
The footage was shot by Michael Lindsay-Hogg and became the Let It Be album and fly-on-the-wall film. In the film, tensions boil over when Harrison is criticised for a guitar part on I've Got A Feeling.
"I'll play whatever you want me to play, or I won't play at all, if you don't want me to," George tells McCartney.
However, in Jackson's film, he tries to show the more joyous times the band shared. John and Paul are seen impersonating ventriloquists with a rendition of Two of Us, George is seen playing air guitar, Ringo is full of energy, buzzing around the place and Yoko is seen having casual, friendly conversations with Linda McCartney.
The Beatles: Get Back depicts a more harmonious relationship within the band, during their final year and a half together. One member is thrilled that Jackson's efforts have corrected some of the mythology around the story.
When the documentary was first announced, Paul McCartney gave his thoughts on Jackson's film.
"I'm really happy that Peter has delved into our archives to show the truth about The Beatles recording together. They're so reaffirming for me. Because they prove my main memory of The Beatles was the joy and the skill.
"I bought into the dark side of The Beatles breaking up and thought, 'Oh God, I'm to blame'. There's a great photo Linda took, which is my favourite, of me and John working on a song, glowing with joy. This footage is the same. All four of us having a ball."
Peter Jackson's The Beatles: Get Back will release August 27th, 2021.