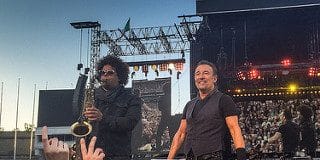 Jake Clemons, of the E Street Band is Ireland bound this May with his solo show.
The 36 year old saxophonist will play Whelan's on May 10th in support of his recently-released album 'Fear & Love'.
Clemons is also set to play dates in Belfast's Empire Music Hall on May 11th, Dolan's of Limerick on May 12th, and Cork's Cyprus Avenue on May 13th.
Clemons joined Bruce Springsteen's E Street band when his beloved uncle passed away in 2011. In an interview with Rolling Stone he spoke of the huge influence his uncle had on his life and career. After seeing the E street Band play at the age of eight, he made his mind up to be a musician.
"It wasn't until I was eight that I got sold on the deal. That's when I saw the E Street Band for the first time. It was the first concert that I ever saw. I saw what Clarence was doing and how the crowd reacted. That moment I realized it was my destiny." After the concert he told his father he'd made his mind up. "I literally told him in the parking lot of the show that I wanted to do that with my life. I told him I wanted to play saxophone.
Of his upcoming gigs in Ireland Clemons said: "I am stoked to be returning to Ireland to perform the new songs from Fear & Love , plus favorites from my previous releases for everyone in the beautiful country of Ireland."
Fans who have seen him play with the Boss will not be disappointed. Clemons has said he's applied the wealth of knowledge he acquired from playing with Springsteen and has applied it to his solo show, "What I want to do with my own group is apply all the lessons that I learned. If people are coming to see me from the Bruce family, they've just seen me with the greatest band on earth. So I want to apply all the lessons I learned as far as communicating with the audience, creating a set list with a theme and a voice. Before 2012 (after he joined the E Street Band), to be honest with you, my set list was pretty depressing. My music was self-serving. That's why this experience has been so important. I want to use it for greatness."
Jake Clemons Irish Tour Dates:
May 10th – Dublin – Whelan's
May 11th – Belfast – Empire Music Hall
May 12th – Limerick – Dolan's
May 13th – Cork – Cyprus Avenue
Tickets for the Dublin gig are €23 and on sale from usual outlets this Friday at 9am.
Picture Credit: Brendan Rankin