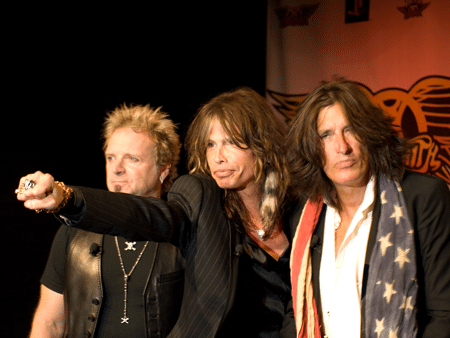 Aerosmith's drummer Joey Kramer says he's feeling great, two months after a health scare that forced him to take time off from touring.
Kramer is also eager to clarify his health situation and is hitting back at news-gossip website TMZ.
In August, TMZ reported that Kramer had suffered 'heart-related complications', and that the sixty-four year old, would undergo heart surgery.
Aerosmith posted an update on their website refuting the claims, saying Joey had undergone a "minor medical procedure," and that the drummer had "no history of a heart condition."
Krammer tweeted, "I'm feeling better than ever and I'll be back sitting in the best seat in the house, hitting it harder than ever for our amazing fans. My gratitude and thanks for all the love and support showered on me during this time. #LetRockRule."
The rock band had to cancel a handful of concerts due to the Kramer's illness. The group continued the tour with Kramer's son, Jessie Kramer. Jessie is also a drummer and filled in for his dad in his absence.
Speaking on The Eddie Trunk Podcast, Kramer said "The likes of TMZ and some other [media outlets] out there said that I had previous problems, that I had existing heart problems from the past and it was something that I always had, which was just completely not true," Kramer said. "I've never had any problems in the past. It's just strictly a hereditary thing. There's a family history, and I was the victim. But no more."
Kramer discussed his health issues, "I kept getting this burning sensation in my chest. My [general practitioner] said to me, 'Just to make sure and rule out that it's anything cardiac related, go and take a stress test.' So I went and took the stress test. I got through the echogram with flying colors. He said that my cardiovascular system looked like that of a 48- or a 50-year-old, and I'm 64. And then I got on the treadmill, and when I got on the treadmill, it started to bother me a little bit."
Kramer recieved an angioplasty with two stents inserted to fix the blockage. "It wasn't my time. It wasn't time for my ticket to be punched. And so I got fixed, and I'm back 150 percent, and everything is as good as it can possibly be."
Great to see Joey Kramer back healthy and positive.