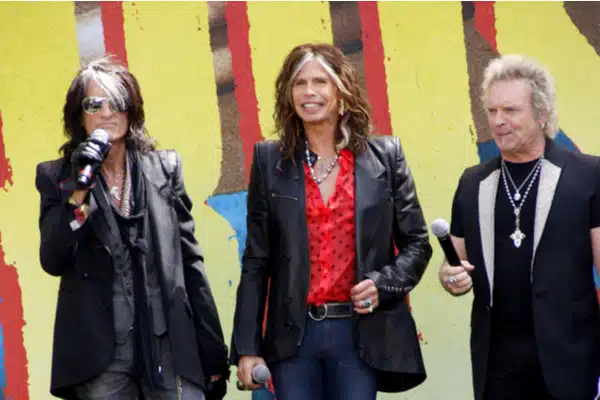 Aerosmith have announced that Joe Kramer has taken a "temporary leave of absence" from the band.
It has emerged that Kramer is stepping away from the band so that he can "focus his full attention on his family during these uncertain times".
Aerosmith had previously confirmed that they are to return to the performing circuit for the first time in two years with their Deuces Are Wild Las Vegas residency, which resumes in June for 24 shows.
The residency dates are as follows.
JUNE 2022
17, 20, 23, 26, 29
JULY 2022 
2, 5, 8
SEPTEMBER 2022
14, 17, 20, 23, 26, 29
OCTOBER 2022
2, 5
NOVEMBER 2022
19, 23, 26, 29
DECEMBER 2022
2, 5, 8, 11
"regrettably"
However, Aerosmith will have to plan for this residency without their drummer.
In a statement, the band confirmed this news.
"[Kramer] regrettably made the decision to sit out the band's concerts in 2022 so he can focus his full attention on his family during these uncertain times", they said. "He and the band look forward to his future performances with Aerosmith". 
The band also announced that drummer Jack Douglas will once again deputise for Kramer.
This is also not the first time that Joey Kramer has sat out an Aerosmith tour. Back in 2019, the sticksman suffered a shoulder injury, forcing him to miss out on shows.
He subsequently requested to rejoin the band for their Grammy Week MusiCares show, but was not allowed to, leading Kramer to file a lawsuit.
Security had also prevented Kramer from entering the Grammy rehearsal facility. One security guard can be heard telling him, "I'm sorry, we're just asking you not to come into the property right now.  We've been hired by the other four members of the band to ask that you don't come in today". 
Kramer responded, "Well,you're just doing your job". He rejoined the band in February 2020.
Kramer also suffered a health scare back in 2014, which was initially reported to be "heart related complications". However, Aerosmith confirmed that Kramer had actually undergone a "minor medical procedure" and had "no history of a heart condition".