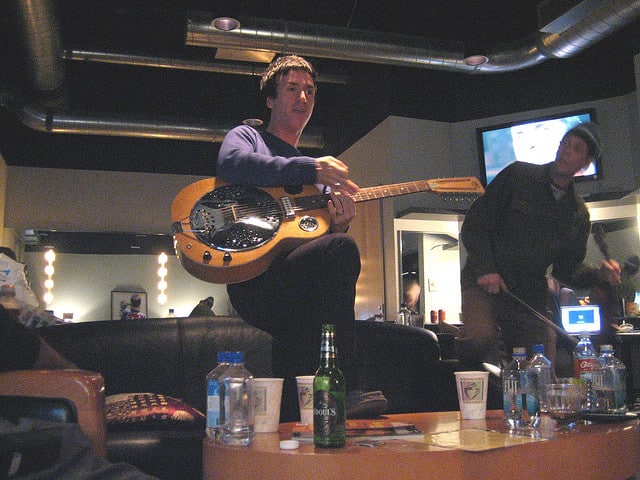 Johnny Marr may have just released his second solo album but he is already talking about moving onto the next record.
The Playland LP comes hot on the heels of his first solo record, 2013′s The Messenger.
He appears to have an insatiable appetite for creating new material. Marr said, "When The Messenger came out I kept on writing. I liked that the band had a momentum going on tour and a connection with the audience, and I thought that energy would be good to capture on the new record."
Now composer and movie soundtrack legend, Hans Zimmer says he'll be working with Marr on his next solo album. The pair previously worked together on the soundtracks for Inception and The Amazing Spiderman 2.
Zimmer said, "I always want to work with Johnny, he's actually got a plan – I don't want to talk about it too much – and he's roped me into something now, we're going to be doing a bit of role reversal. I'm going to be his humble arranger, which is going to be fun. It will be a case of Johnny telling me what to do and I'll do it. It will be for his next album."
"Johnny is the most generous, brilliant and wonderful and polymorphic human being I know. You want to go and talk to him about paintings, you want to talk to him about literature, you want to talk to him about politics you better put a lot of time aside."
Speaking to Gigwise, Marr seemed to be taken back by all this flattery.
"I think of Hans, The Cribs, David Byrne, Beck, and almost anyone I've collaborated with in a serious way, we were all trying to make a really interesting pop record. Even with Hans on the movies, he's always trying to get me to be 'JOHNNY F**KING MARR'".
Marr continued: "Hans would say, 'BE JOHNNY F**KING MARR – DON'T PAY ATTENTION TO WHAT I AM DOING'. We all love this thing called pop music or whatever genre we call it, but we're trying to find little drops of art in it. That's what it is. It nearly always works. I can't think of many times where we've had a misunderstanding with each other."
"I've learned a lot from Hans about being able to really go somewhere dramatic with guitars, that would be the only thing I'm interested in besides what I'm doing now. What I'm doing right now on my solo records is almost more challenging, because I'm trying to say a certain thing without being very, very introspective."
Playland is available now. Watch the video for his first singe 'Easy Money'.
Track list:
Back In The Box
Easy Money
Dynamo
Candidate
25 Hours
The Trap
Playland
Speak Out Reach Out
Boys Get Straight
This Tension
Little King