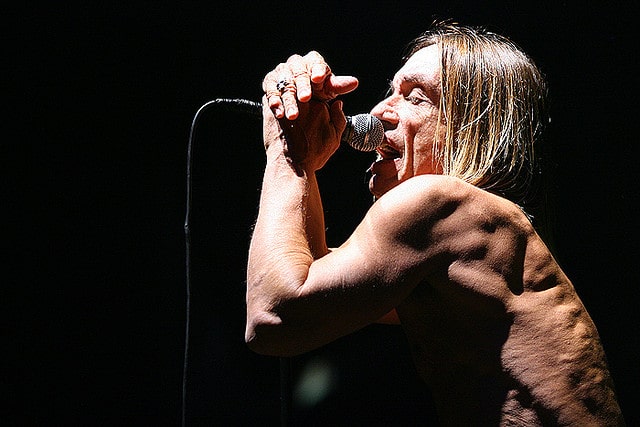 Iggy Pop has been talking to presenter Kirsty Wark about an array of issues on BBC TWO's Newsnight show.
The Stooges frontman discussed the state of the current music industry, wanting to be a politician, and his very brief golf career.
Speaking to Newsnight, Iggy said, "When I started I was unaware of my fiduciary duty to make money for the record company, I was thinking about other things. Later, a few years in that became a problem because I was a disgrace to the industry."
"You've got to make a quick investment return for somebody that's sitting somewhere collecting interest. And that's fine, that's a good system but maybe it's a bit too successful sometimes and somebody should beat it back a bit. There are a lot of artists who go through this."
Commenting on the Apple and U2 partnership, "That might be a sponsorship. I thought gee, television shows are commonly sponsored by whoever sponsors these ads you see. That's accepted and for some reason when that comes over to music it's a different feel. I'm not sure people are accepting of that."
On politics, "I did want to be a politician, until JFK got shot. And then I thought…..not because he was shot, but because… suddenly you had Nixon, Hubert Humphrey, LBJ. A kid can look at these people and think – these people are not well."
He finally discussed his short stint in the world of golf. "'I tried out for the school golf team, didn't make it. I was about 15 handicap."
Iggy will also be giving a lecture on legendary DJ John Peel on BBC Radio 6 Music. The speech titled 'Free Music in a Capitalist Society' which will be broadcast on 6 Music live on Monday October 13th and will later be shown on BBC Four on October 19th.