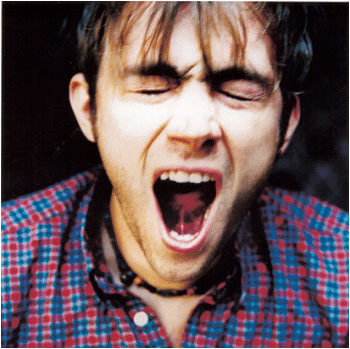 The Blur frontman has been visiting Japan to perform a special acoustic set, for an audience mostly made up of humans.
Although, there were two special guests sitting in the corner, watching Albarn perform the track 'Everyday Robots'.
It sounds a little like Mary Shelley's book Frankenstein, an eccentric creator makes a monster in an unorthodox scientific experiment, luckily for the Blur singer, the androids didn't attempt to kill him.
Albarn was invited to perform at Tokyo's National Museum Of Emerging Science and Innovation (Miraikan) for an audience that contained a rather creepy robot, that at times looks drunk. Albarn described technology and melancholy as very powerful when combined.
The Gorillaz creator played a live acoustic set that included 'Everyday Robots' and Blur's stunning sorrowful tune 'Strange News From Another Star'. Albarn said, "A song like Everyday Robots, is sort of science fiction, where people don't use their hands anymore and they've grown huge thumbs."
The tipsy acting android is named Otonaroid, which looks like a female. Then there is the more traditional looking robot named Telenoid, who has already entertained David Beckham and Barack Obama. They both watched in the audience while Damon sang and played piano. Otonaroid seemed impressed by the show, maybe it was the drink, at the end, she trades a bow with Albarn.
Albarn said, "It's terrifying and very inspiring, which is really how I feel about technology. I might write a song about singing to an android now."
Watch the Damon Albarn android concert below.