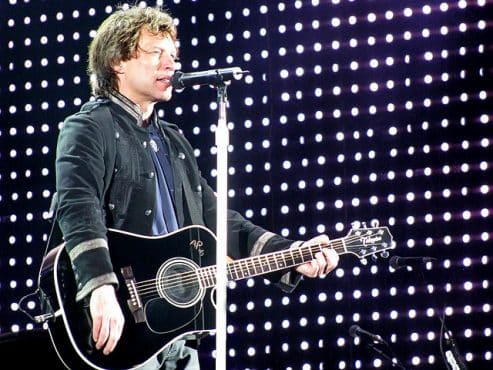 Jon Bon Jovi has been speaking about his ex-band member Richie Sambora, he says there is no ill will towards Richie, but claims it is unlikely that he will return to the band.
The guitarist vanished from the line-up last year, speculations were rife that a fight had occurred between Sambora and Bon Jovi, but the singer has down played any such rumours.
Sambora claims when he asked for time off from the group, he was met with an ultimatum, he could either continue with the tour or quit. The former bandmate said he felt hurt by the band's harsh treatment but he remained optimistic that he could rejoin them further down the road.
Bon Jovi  says there are no hard feelings for the way things ended between the pair, although a reunion doesn't seem plausible at the moment.
Speaking to Showbiz 411, the frontman said: "He quit. He's gone. No hard feelings. Being in a band isn't a life sentence."
Earlier this year, fans got there hopes up that the pair might reunite when, during the ALS ice bucket challenge craze, the singer nominated his old friend.
Sambora is enjoying life as a solo artist, he played at this year's Download festival along with a few sparse summer gigs in Ireland and the UK.