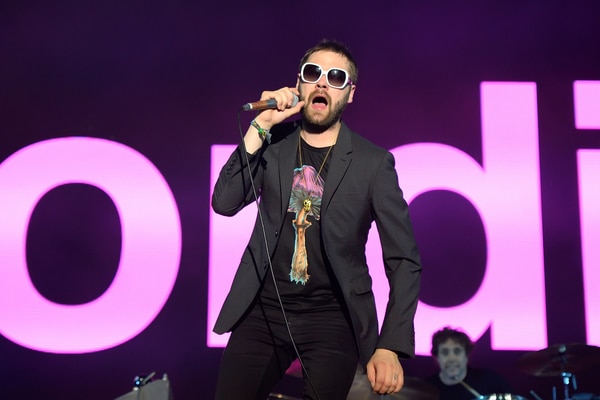 Former Kasabian frontman Tom Meighan has tied the knot with his partner Vikki Ager, whom he had previously pleaded guilty of assaulting.
In July of last year, Meighan was kicked out of the band when they learned of his alcohol fuelled assault on Ager. Meighan told fans he was quitting for "personal issues." The remaining Kasabian members later accused him of misleading fans by not coming clean with the truth about their parting of ways.
"As soon as we found out about the charges against Tom, we as a band made the decision we could no longer work with him," a statement from the band read at the time.
On April 9th of last year Meighan was captured on CCTV hitting Ager, his partner of four years, in their home before dragging her by the ankles into their back garden. He also threw her across a room and threatened to strike her with a wooden pallet.
Meighan was convicted of domestic assault and sentenced to 200 hours of community service. He checked into rehab for treatment for alcohol addiction following his conviction.
On Tuesday Meighan and Ager were married in an intimate ceremony in their native Leicestershire. The couple were wed at Market Harborough Registry Office.
A statement said the couple were "surrounded by their children, family and a few close friends," but that the wedding was held "in accordance with the latest COVID-19 guidelines."
"Tom has worked so hard on himself, his health, family unit and his relationship with Vikki over the past year," the statement added. "They are very much in love and looking forward to sharing the rest of their lives together."
Following his 2020 conviction, Meighan publicly apologised to Ager, saying "I am very sorry and deeply regret my recent behaviour. In no way am I trying to condone my actions or make excuses."
"I am completely to blame and accept all responsibility," he added.
Speaking in a radio interview last year, Meighan claimed he was suffering from alcohol addiction at the time of the assault, which he couldn't remember clearly.
"We had too much to drink. I regret everything that happened that night – what I can remember of it," he told an interviewer. "I don't condone it – it's horrific. I love my partner to pieces. I was at a boiling point in my life – I didn't know where things were heading. I was drowning myself with drink because of my problems and things going on around me. We had a fight and I took the brunt for it. I was fully responsible for what happened but we love each other and we're getting over it."
Meighan described the incident as the lowest point of his life and said he felt like he had "died on the day of the court case."
Speaking in the same interview, Ager said she had forgiven Meighan for his actions.
"He apologises daily. He really does. A lot of people have arguments and ours got taken to an extreme level," she said. "I gave as good as I got. We were both fighting. We were really drunk and I don't normally drink. It was more of a squabble, it wasn't domestic violence."