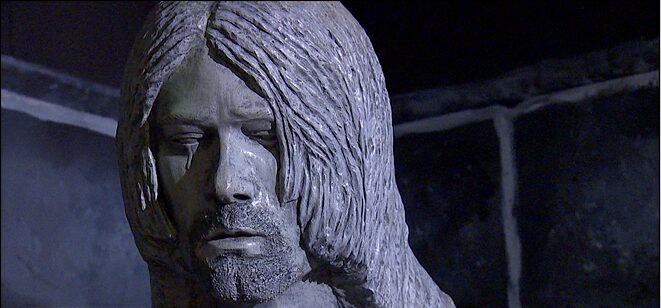 Kurt Cobain has had a statue erected in his home town of Aberdeen, Washington in memory of the Nirvana singer.
The event took place on the 20th of February which was his Birthday, he would have been 47.  The unveiling was part of Kurt Cobain Day which is set to be an annual event in his home town of Aberdeen. The statue depicts a weeping Kurt Cobain where he has a single tear running down his face and is situated in the Aberdeen Museum of History.
The day's festivities included a gig and an appearance from the frontman's guitar teacher.
The Mayor of Aberdeen  Bill Simpson recently read a proclamation, which stated:
"Aberdeen residents may justifiably take pride in the role our community played in the life of Kurt Cobain and the international recognition our community has gained from its connections with Kurt Cobain and his artistic achievements."
"This has been a long time coming; we should have done it long ago. Paul McCartney said Kurt Cobain was a genius, that said a lot for me. We want him to be known for his music," Mayor Simpson says.
Kurt Cobain committed suicide almost twenty years ago. And soon after that local artist Randi Hubbard began creating the statue of Kurt along with local students. They offered it to the community but it was refused due to the singer's negative comments about his home town and his associations with drugs. Since then it has been sitting in her muffler until recently the community decided to accept the statue and erect it in the museum in his honour.
Nirvana will be inducted into the Rock and Roll Hall of Fame in April.