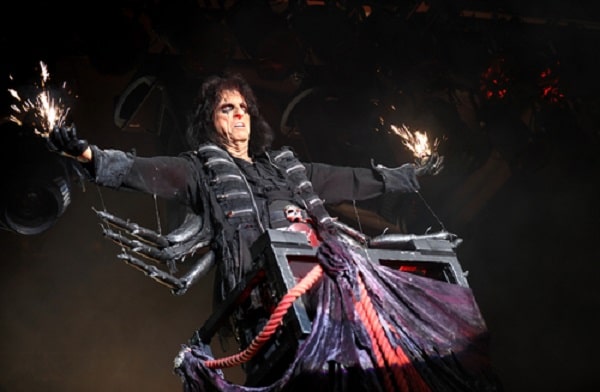 An album of hits from Alice Cooper have been re-recorded to make them suitable for infants. There's a news item you never thought you would see! This album is titled, "Lullaby Versions of Alice Cooper".
Twinkle Twinkle Little Rock Star
The album will be released in partnership with Twinkle Twinkle Little Rock Star, a company that creates "beautiful lullaby versions of your favourite artists", via Roma Music Group".
The catalogue includes 135 titles on its books. Artists that have had their music turned into lullabies by the company, include The Beatles and Metallica. Other talents include Lady Gaga and Adele.
This record will include more soothing, instrumental versions of Alice Cooper's hits. These include "Poison", "Under My Wheels" and "Schools Out".
More on Alice Cooper's re-recorded lullaby tracks here.
"Lullaby Versions of Alice Cooper" 
Check out the tracklist for the Alice Cooper album below.
01. 'Poison'
02. 'School's Out'
03. 'No More Mr. Nice Guy'
04. 'I'm Eighteen'
05. 'Feed My Frankenstein'
06. 'He's Back (The Man Behind The Mask)'
07. 'Billion Dollar Babies'
08. 'How You Gonna See Me Now'
09. 'Only Women Bleed'
10. 'I Never Cry'
11. 'Under My Wheels'
12. 'Welcome To My Nightmare'
Alice Cooper & Jimi Hendrix
This month also saw Alice Cooper let us in on a little secret of the time Jimi Hendrix offered him his first joint! It happened after he had attended a Hendrix concert.
On that Cooper had this to say.
"I'm sitting there after the show. I went to see them", Cooper began.  "We were just a little high school band, but they said, 'Hey, come on up to the hotel room.' And we were sitting on his bed, and Jimi goes, 'Here, man' (with a joint), and I went, 'Okay". 
Cooper also added, "Hendrix goes and puts a quarter in the bed you know, the vibrating bed. There was like eight people sitting on the bed. And he goes, 'We're on a spaceship!' And I went, 'Okay". 
You can check out more on this story here.