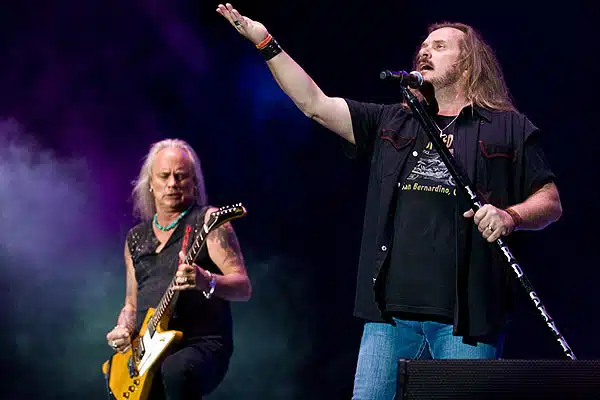 Southern Rockers Lynyrd Skynyrd and Peter Frampton have announced a new joint tour together. They will be hitting the road together over the summer.
They have teamed up before as they toured together back in the seventies. Lynyrd Skynrd and Peter Frampton's summer tour kicks off June 3rd at Albany, New York's Times Union Center on its way westward before coming to a close, as of now, on August 21st in Murphys, California.
They have announced 12 dates so far for the new tour, with more dates expected to follow in the future. Both acts have their own separate dates interspersed throughout the tour as well.
Peter Frampton has planned a Skynyrd-less gig at Gregg Allman's Laid Back Festival in Chicago on July 16th while Lynyrd Skynyrd will perform at Los Angeles' Greek Theatre sans-Frampton on August 18th.
The news of the tour was announced on Peter Frampton's Twitter account yesterday. The guitarist has a long association with the Southern rockers. He teamed up with Lynyrd Skynyrd to play J.J. Cale's 'Call Me the Breeze' in November 2014 at the Fox Theatre in Atlanta, which appeared on a live DVD released by Lynyrd Skynyrd.
Speaking about his association with Lynyrd Skynrd, Frampton previously said "We've known each other on a very close level, for a longtime."
Photo Credit: Focka