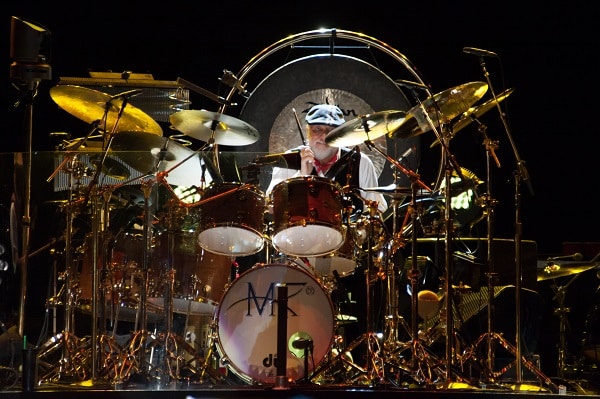 On 25 February 2020, Mick Fleetwood along with David Gilmour, Noel Gallagher, Kirk Hammett, Steven Tyler and others, played a special concert. This concert was in honour of Peter Green legendary co-founder of Fleetwood Mac.
This event was named "Mick Fleetwood and Friends Celebrate the Music of Peter Green and the Early Years of Fleetwood Mac".
This concert will be available to watch on demand on March 27 too. It will also be released as a live album from April 30. More here. 
"Beyond reproach"
Speaking recently about this tribute concert and what Green meant to him, Fleetwood said, "Personally, Peter was a good friend". Adding, "Musically, he's beyond reproach in terms of what he meant to me and John (McVie) and the original band". 
Fleetwood also added "it's very evident how the world feels about him from all the lovely people that showed out to the show (tribute concert) in London. And this is an event I've always wanted to do".
"Things fell into place"
Mick Fleetwood also remarked on how "magical and unbelievable that all these things fell into place". He made these comments when talking about getting in touch with the likes of Steven Tyler and Billy Gibbons for this tribute show.
"Two years before this event happened, I knew that in theory, I had Steven Tyler and Billy Gibbons"
"They always wanted to do this. I was able to re-approach them and it all fell into place", he added.
Fleetwood did not exactly have to sell the idea to Pete Townshend of the Who either.
"I met him through Zak Starkey who plays with him in the Who. He's a friend and he's a huge Peter Green fan" explained the drummer. 
"Where's the connection?"
Noel Gallagher was another musician who performed at this concert and here Mick Fleetwood explains how that conversation came about.
Fleetwood explained that his niece Lily Donaldson knew Noel Gallagher's wife. During a phone conversation, Lily told her uncle, "I'm at a restaurant with Noel and I told him all about the show. He wants to talk".
According to Fleetwood, Noel picked up the phone and said to him, "You don't know how much Fleetwood Mac meant to me. Almost every sound check we (Oasis) ever did Mick, I would pull out an old Peter Green Fleetwood Mac Song". 
Another strange connection was Metallica's Kirk Hammett. "He lives in Hawaii" explained Fleetwood.
"He came to a charity show I did on the island. And completely related how much Fleetwood Mac Peter Green meant to Metallica". 
The drummer was also full of praise for Pink Floyd's David Gilmour who also performed at the tribute gig for Peter Green. He described Gilmour as the "most gracious chap". Fleetwood also went on to add "he had so much reverence for Peter Green's playing and who Peter was and the songs".
On the concert's documentary, Mick also said it will cover "weeks and weeks of rehearsals and stuff we started here in Hawaii.
Adding "I'm really looking forward to that. It will put a capsule that tells a story. I hope it will be meaningful in telling the history of my band, Fleetwood Mac".