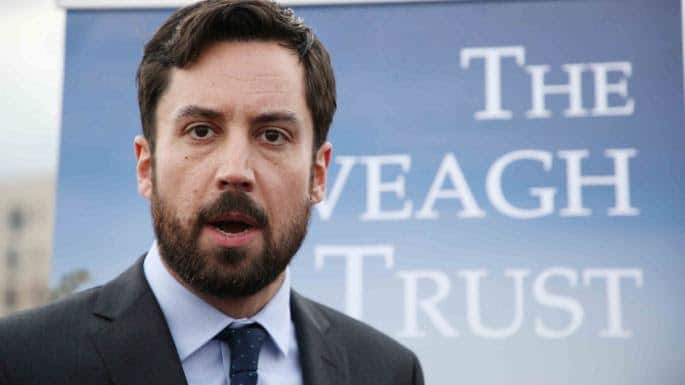 The Housing Minister clashed with a party colleague as Eoghan Murphy launched the proposal for Emmet Road in Inchicore while Catherine Byrne announced she's against it.
Minister Murphy arrived in Inchicore to announce plans for 470 new homes at the old St. Michael's site under the country's first Cost Rental Scheme.
Eoghan Murphy says the site will include social housing, with the remainder will be rented out to people at affordable prices.
"We can allow people to afford to be able to rent in their own communities, but we can also protect them from the very dramatic ups and downs of the market", he said.
However, his party colleague and local TD Catherine Byrne interrupted the launch to voice her anger towards it.
"I'm really upset that Dublin City Council are launching this today, when really there hasn't been any input from locals", she said.
Among other things – this proposal dashes St Patrick's Athletic F.C.'s hopes to build a UEFA-grade stadium. Dublin City Council will have to give its approval for the 470 units so it's in their hands whether its given the green light or not.
The Green Party today welcomed the Government's proposals for 472 housing units. The development will see the roll-out of 330 cost-rental units. Speaking in response to the announcement, Green Party Leader Eamon Ryan TD said:
"We warmly welcome the Government's plans for cost rental housing in St. Michael's Estate in Inchicore. Cost rental delivers accommodation significantly below market price, and ensures a mixed tenure. We have been advocating cost rental for a long time, and we're glad the Government is finally starting to roll out this innovative housing solution.

"Austria, the Netherlands, and Denmark all use the cost rental model to deliver thousands of homes every year – there is absolutely no reason why our Government can't do the same. We want to see more ambition, and more cost rental housing from the Government. There are dozens of landbanks close to urban centres that would be ideal for high quality, affordable housing. We look forward to seeing progress in St. Michael's Estate, and hopefully, plenty of other locations."
In March 2018, the Green Party's Dáil motion calling for thousands of high quality, affordable cost rental units to be developed on State lands was passed by Dáil Éireann.
Eoghan Murphy, Minister for Housing, Planning and Local Government today announced that a Dublin City Council-owned site at Emmet Road in Inchicore, has been selected as the location for Dublin's first major Cost Rental development. #rebuildingireland pic.twitter.com/4cUEZearLQ

— MerrionStreet.ie (@merrionstreet) July 23, 2018
https://twitter.com/RebuildingIRL/status/1021340166898765827