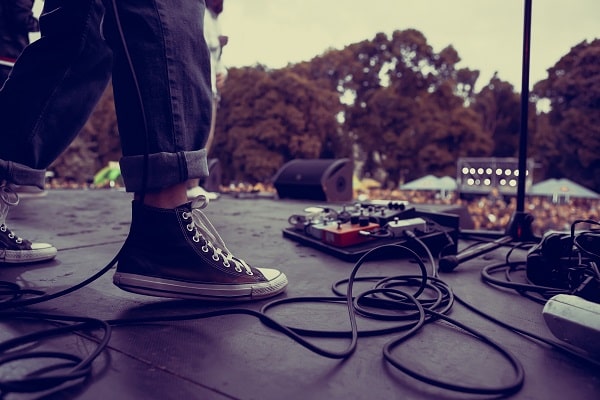 According to a new report by UK Music, many musicians will lose two-thirds of their income as a result of Covid-19. With concerts and festivals put on hold during this pandemic, live music revenues are set to fall by 85% in 2020.
UK Music's Jamie Njoku-Goodwin has said the current pandemic has caused a "catastrophic blow" to the music industry, with tens of thousands of jobs at risk. Although, he said music was "an international success story in normal times" so, it is possible to thrive once again. His comments come as a UK Music report revealed that music contributed £5.8bn to the UK economy in 2019.
UK Music, who represents the recorded and live music industry, said revenues were up 11%, and exports grew to a value of £2.9bn. However, they say the pandemic has caused a domino effect in the music sector. Cancelled concerts and festivals have deprived musicians of funds they could have spent hiring studios to make new records.
According to the report, musicians and songwriters are predicted to lose 65% of their income this year, with those figures rising to 80% for those most dependent on live performance and studio work.
During more normal times, a musician earned in the region of £23,059. This is well below the national average of £29,832, according to the Office of National Statistics. With a decrease of 65% in pay, their income would fall to lowly £8,070.
Despite the numbers cited in the report, Mr Njoku-Goodwin told BBC News he was "optimistic and hopeful" the industry would recover when the pandemic ends.
"2019 was a fantastic year for the UK music industry, and we were firmly on track to be one of the great British success stories of the coming decade. Even though it hasn't happened this year, it doesn't mean we have to start straight away from square one. It doesn't mean we have to be knocked back five or six or seven years.
Mr Njoku-Goodwin added: "We can be booming again, we can be growing again, we can be delivering for the UK again."
Loss Of Talent As Some Musicians Don't Qualify For Support
According to a Musicians' Union survey that is quoted in UK Music's report, 87% of musicians say they will face financial hardship when furlough schemes come to an end. One third of musicians did not qualify for any support.
Mr Njoku-Goodwin said the subsequent loss of talent was a danger to the industry, telling the BBC: "We need to make sure that a pandemic that has lasted a year doesn't have a decade-long impact on the British music ecosystem."
UK Music is raising the flag that a number of measures is needed to help musicians get back on their feet. These include a VAT exemption on concert tickets, government backing for a live music insurance scheme, business rates relief for concert venues and a taskforce to establish protocols on testing and safety at venues.
This is in contrast to Ireland, where musicians and other artists got a boost last night. The Government appointed Arts and Cultural Recovery Taskforce has backed a proposal for a pilot Universal Basic Income (UBI) for the arts sector. The proposal is based on the minimum wage of €10.20 per hour for 31.9 hours per week, giving a total of €325.38.
In recent news, a court in Germany has declared techno as music in an effort to help musicians find work. Clubs should now benefit from the same reduced sales tax rate as concert halls, cutting their expenses in holding such events.