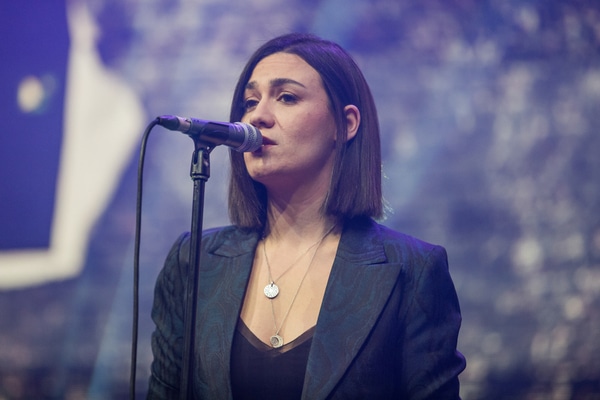 Nadine Shah has labelled Adam Clayton a "f*****g spenk" following his comments about Phil Lynott during the late rocker's documentary Songs For While I'm Away.
Singer Nadine Shah made these comments in a video posted via social media.
On Phil Lynott, Adam Clayton said this in the documentary, "One thing you need to know about the bass is it's that big, heavy thing that hangs down between your legs". 
Clayton also added, "The bass is this secret weapon. It's where the power comes from. It looks in a groove with the drum kit – the drums and the bass gives you that nice, kind of sexy wiggle of the hips. And then all the other kind of girly stuff sits on top, but we are the men of the band". 
"A f*****g spenk"
It was the last sentence (highlighted in bold) in particular that Shah took umbridge with, responding to Clayton's comments in one simple word "prick".
She added further weight to her comments via Twitter, "Adam Clayton is a fucking spenk. My 'girly stuff' s***s on what you do". 
Check out the post below.
Adam Clayton is a fucking spenk. My "girly stuff" shits on what you do. pic.twitter.com/DrCDdsiKwf

— Nadine Shah (@nadineshah) December 4, 2021
Nadine Shah has always been outspoken against sexist conduct. Detailing several experiences of verbal and sexual assault, Shah previously said, "The abuse of women is everyday and everywhere". 
She pointed to these topics in her recent fourth album "Kitchen Sink". Such tracks included "Trad" and "Buckfast".
Speaking of Clayton, his band U2 confirmed last month that they are auctioning off guitars for charity.
The profits will go towards the charity Music Rising. It was first set up in 2005 to help musicians affected by Hurrican Katrina. However the charity will now help musicians that have been affected by the pandemic.
Clayton's bandmates Bono and thed Edge are autioning off guitars of their own for this initiative.
Edge is selling off his Custom Signature Fender Stratocaster that he used for legendary U2 track "I Still Haven't Found What I'm Looking For".
Bono is also auctioning off his Custom Gibson ES-175 Electric Guitar. He used this during the 1992-93 ZOO TV Tour. More on this report here.