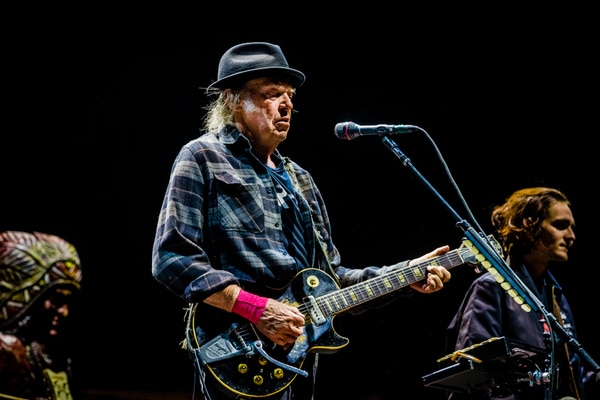 Neil Young has dismissed conspiracy theories that Pfizer have invested into his music publishing.
Pharmaceutical company Pfizer are behind one of the widely used Covid vaccines.
Neil Young has asked for his music to be removed from Spotify. This decision was a protest against Joe Rogan's spreading of anti vaccine views on his controversial podcast. 
"clever but wrong"
A letter which has since been removed was subsequently published on Neil Young's website.
In the letter, Young addressed this conspiracy theory. He also addressed the belief that his views on vaccines were dictated to him by Pfizer.
This rumour gathered momentum after it emerged that a former CEO for Pfizer, now works as a senior advisor for assets manager Blackstone. Blackstone are also in partnership with Hipgnosis, the label where Young currently works.
Calling the conspiracy their "clever but wrong", Neil young also quipped "so much for Pharm Aid". This a reference to both the common conspiracy theory of "big pharma" and his own Farm Aid charity.
"The publishing share Hipgnosis has in my copyrights is in the Hipgnosis Songs Fund, that is publicly traded on the London Stock Exchange", the folk singer explained.
He added, "The Blackstone investment went into a separate Hipgnosis Private Fund, and none of that money was used for the Hipgnosis Songs Fund. Pfizer has not invested in Hipgnosis, but a past Pfizer CEO is a senior advisor for Blackstone". 
"stoner, birdbrain punk"
These conspiracy theories have been circulating as Young has received some backlash over his stance against Spotify.
One of the prominent voices to criticise Neil Young, has been controversial rocker Ted Nugent, who has branded Young a "complete punk".
He said, "Well, Neil Young, God bless him. I'm sure that there's many people that appreciate Neil Young's creativity and his talents and his creation of wonderful music for those people who love that kind of music".
He also added, "So this is a funny moment because he made an ultimatum to Spotify – whatever that big tech is – and he said, 'If you don't take Joe Rogan off Spotify, then you have to take my music off Spotify. That's a pretty easy decision, Neil. Thanks for making it so simple, because Neil Young on Spotify – adios, mofo".