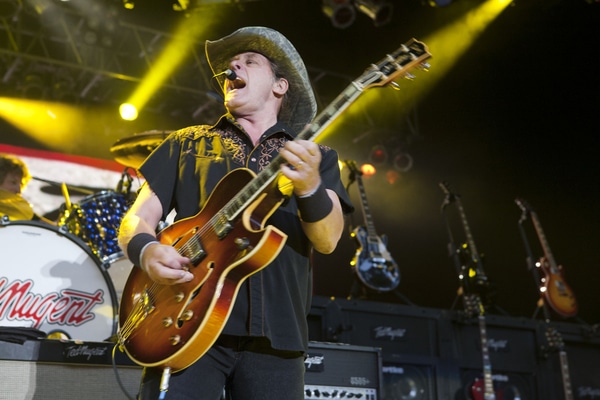 Ted Nugent has had his say on the recent Spotify controversy, branding Neil Young a "complete punk".
Neil Young saw his request to remove his music from Spotify granted by the site, in protest against the "misinformation" spread on the streaming service on Joe Rogan's podcast.
In support of Neil Young, Crosby Stills & Nash also asked for their music to be taken off the site. More on this here.
Following this, Neil Young also wrote an open letter asking other artists to quit.
"the guy is a complete punk"
Since then, the controversial rockstar Ted Nugent has had his say on the recent Spotify saga.
"Well, Neil Young, God bless him. I'm sure that there's many people that appreciate Neil Young's creativity and his talents and his creation of wonderful music for those people who love that kind of music", Nugent said.
However he went on to add, "I'm not a big fan. I happen to know that he's got a lot of soul… But now that I've praised him for all the positives, the guy is a complete punk".
Nugent continued, "If you've done that much mind-altering chemicals throughout your life, then you can proudly claim in one moment that you should be rocking in the free world but then in the next moment witness all the evidence supporting everything that Joe Rogan's been saying, that I've been saying, the truth, logic, common sense, the indisputable evidence to support it, and then claim that we're guilty of misinformation when actually the stoner birdbrain punk, he delivers misinformation".
"So this is a funny moment because he made an ultimatum to Spotify – whatever that big tech is – and he said, 'If you don't take Joe Rogan off Spotify, then you have to take my music off Spotify", he added. "That's a pretty easy decision, Neil. Thanks for making it so simple, because Neil Young on Spotify – adios, mofo".
"I can't stand folk music"
Along with Young, singer Joni Mitchell also asked for her material to be removed from Spotify.
Ted Nugent did not spare her in his tirade against the Neil Young saga.
"Now Joni Mitchell's doing the same thing, and, again, God bless her. I can't stand folk music, but I know there are a lot of people that love that kind of stuff and I salute them and thank them. And I appreciate any music that makes people happy and fortifies their American Dream, or whatever dream they might have", he said.
"Is there another dream? I don't think so. The Mexican Dream is to get the hell out and go to America".
Nugent also claimed that what Young and Mitchell have been saying is "stupid".
He said "with all due respect… I'm sure Joni… I've seen Joni Mitchell do interviews; she's a smart gal, and her musical dreams she literally has perfected. And on behalf of those people that love that kind of music, I can only salute them and celebrate the happiness that Joni Mitchell and Neil Young's music brought them".
This is not the first time that Ted Nugent has opened his mouth the the Covid vaccine, likening people who take the jab to "sheep".