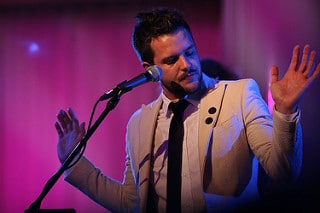 It's been a long time coming but, The Killers have shared the first song from their upcoming fifth album! The track is called, 'The Man' and it doesn't disappoint.
The Las Vegas band's new album – titled Wonderful Wonderful – will follow on from 2012's Battle Born as well as Brandon Flowers' 2015 solo LP The Desired Effect.
You can listen to the new song HERE.
The Man' was recorded with producer Jacknife Lee during sessions in Las Vegas and Los Angeles. A press release from the band says the Bowie-inspired rock anthem finds front man Brandon Flowers "looking back on his younger self, the 'Brandon Flowers' persona from their Grammy-nominated debut Hot Fuss, and reconciling that wide-eyed character with the man he is now." Deep.
https://www.youtube.com/watch?v=DfedYa_JovE
The release date for Wonderful Wonderful has not yet been announced but according to the band, their new album is "soon-to-be completed" and is "shaping up to be their most sonically forward-thinking record yet; an LP bursting with all of the blazing choruses and arena-filling anthems".
In a  recent interview, front man Brandon Flowers and drummer Ronnie Vannucci said the follow-up to 2012's 'Battle Born' was "coming along".
"It's sounding good," said Vannucci. "We have a problem with taking two steps forward and one step back, so that makes it take longer. We keep asking ourselves: 'What does a four- piece band do? How do you keep it fresh?' It's a constant exercise in experimentation."
Flowers then added: "'How should a band sound in 2017?'"
Vannucci went on to say: "We're trying to arrive at something we're all just a little bit uncomfortable with. When everyone is slightly uncomfortable, then we know we're there.
"We're just pushing it in different directions, then bringing it back and trying another direction."
The band have also announced new live dates with a date in London's Hyde Park August 7th. As of yet there are no Dublin dates, but we're keeping our fingers crossed!
Photo Credit: Thomas Hawk
By Charlotte Dillon