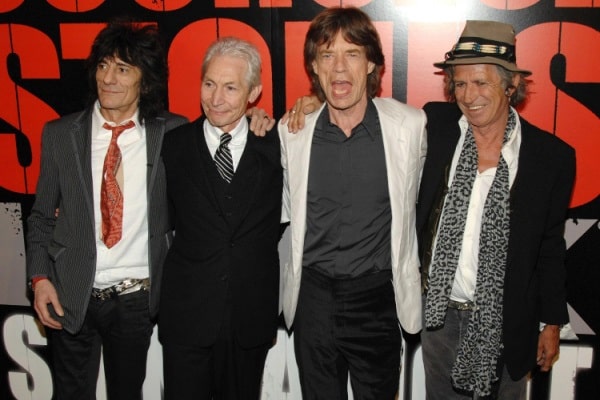 Would you like to listen to the article instead of reading it?
The Rolling Stones who released their latest album 'Hackney Diamonds' yesterday, have confirmed that two tracks feature their late drummer Charlie Watts.
The band discussed the album yesterday with Tonight Show host Jimmy Fallon, and our very own Dee Woods from Radio Nova, as Rolling Stones premiered their track 'Angry'.
EXCLUSIVE: Nova's Dee In Hackney For New Rolling Stones' Album Launch
It was during this discussion that the band's frontman Mick Jagger revealed that two tracks from the album also feature their late drummer Charlie Watts, who passed away in 2021.
The songs which were recorded in 2019, are called 'Mess It Up', and 'Live By The Sword'.
"There's 12 tracks on the album and most of them are Steve, but two are tracks we recorded in 2019 with Charlie. And so we used two of the tracks we recorded with Charlie before", Jagger explained.
The Rolling Stones revealed that another of track from 'Hackney Diamonds', features former bandmember Bill Wyman, meaning that they "have the original Rolling Stones rhythm section".
"Of course he's missed"
Elsewhere, Mick Jagger, Keith Richards, and Ronnie Wood spoke about the album at Hackney Empire yesterday, and they also shed some light on how the band have changed, and how they have coped since Watts' death.
"Ever since Charlie's gone it's different, of course. I mean, he's number four. His missus is up there… Of course he's missed. Incredibly", Keith Richards said.
He continued, "But thanks to Charlie Watts also we have Steve Jordan who was Charlie's recommendation for if anything should happen to him. [He told us,] 'Steve Jordan's your man'".
"[Watt's chose him] way, way back, and also he's been a friend of ours. I've worked with Steve so it was a kind of natural progression," he also added. "It would have been a lot harder without Charlie's blessing on that, you know?".
'Hackney Diamonds' will be officially released on October 20, having been teasing a release of a new album for weeks.