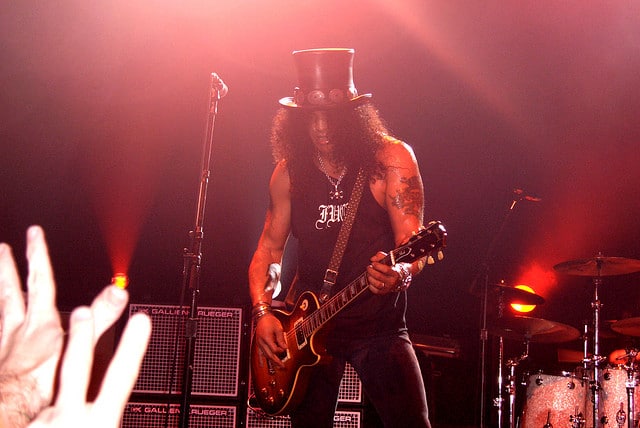 Guitar hero Slash has released a new trailer for the DVD version of his gig at the famous Roxy Theatre on the Sunset Strip with his band Slash featuring Myles Kennedy & The Conspirators
Live At The Roxy 25.9.14 details a gig the band played shortly after releasing the 2014  album World On Fire.
The Roxy Theatre in Hollywood is a legendary stage in the American music and has seen live albums recorded there by the likes of Bruce Springsteen & The E Street Band, Bob Marley & The Wailers and Van Morrison.
The gig will be released as a CD as well as a DVD and will be available to buy on 16th June.
The DVD's track listing can be seen below and features tracks from throughout Slash's career including hits from Guns & Roses, Velvet Revolver and his solo material.
Slash revealed earlier this year that he has "already started working" on his fourth solo album  after World On Fire and 2012's Apocalyptic Love and 2010's multi singer album Slash.
The new album will be Slash's third collaboration with Alter Bridge's singer Kennedy and the Conspirators, Todd Kearns (bass) and Brent Fitz (drums).
"Live At The Roxy 25.9.14" track listing:
01. Ghost
02. Nightrain
03. Back From Cali
04. You Could Be Mine
05. Rocket Queen
06. Bent To Fly
07. Starlight
08. You're A Lie
09. World On Fire
10. Anastasia
11. Sweet Child O' Mine
12. Slither
13. Paradise City
Additional Tracks:
01. Stone Blind
02. You're Crazy
03. Wicked Stone
04. 30 Years To Life