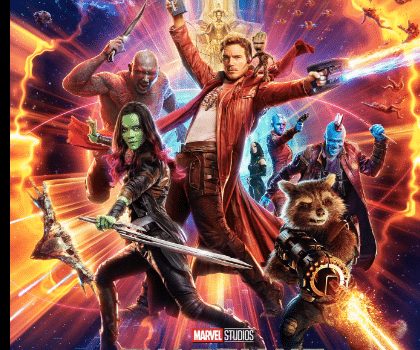 The track listing for Guardians of the Galaxy's Awesome Mix Vol. 2 has been revealed, and like the first chart-topping, platinum soundtrack album, it's brilliant.
If you didn't see the first movie you have to check it out for the tunes alone! A cassette filled with '70s songs left to Star-Lord by his mother played a part in the first movie's plot.
The first Guardian's installment ended with Chris Pratt's character, Peter Quill, discovering "Awesome Mix Vol. 2," music will be just as essential to Guardians of the Galaxy Vol. 2; due to hit Irish theatres, Friday April 28th.
As expected, after powering a pair of trailers, Fleetwood Mac's "The Chain" is on there.
The track has famously been cited by many as one of the most apt expressions of the internal fracture between the band members at the time.
Which is kind of perfect for The Guardians Vol. 2 as they fight to keep their newfound family together.
"All you do is yell at each other. You are not friends"
"No, we're family"
Also featuring are Electric Light Orchestra, who check in with "Mr. Blue Sky," Sweet's "Fox on the Run," George Harrison's "My Sweet Lord" and Cheap Trick, who contribute "Surrender."
And like the first volume's '70s-packed track listing of irresistible one-hit wonders (especially Blue Swede's "Hooked on a Feeling" and Redbone's "Come and Get Your Love"), Vol. 2 features a couple of its own, Looking Glass' "Brandy (You're a Fine Girl)" and Silver's "Wham Bam Shang-A-Lang."
We imagine that Cat Stevens' moving "Father and Son," is bound to pop up when hero Star-Lord (Pratt) meets his long-lost dad (Guardians newcomer Kurt Russell). In the trailer we see the legendary Kurt Russell make his surprise debut as Ego with his "Luke, I am your father" moment.
"After all these years, I've found you," Ego tells Star-Lord (Pratt).
"And who the hell are you?" Star-Lord — a.k.a. Peter Quill — asks.
"I'm your dad, Peter," he tells his shocked son.
…. Say what?!
We're looking forward to joining the team as they traverse the outer reaches of the cosmos and unravel the mysteries of Peter Quill's true parentage, with a few good tunes!
Photo Credit: Twitter