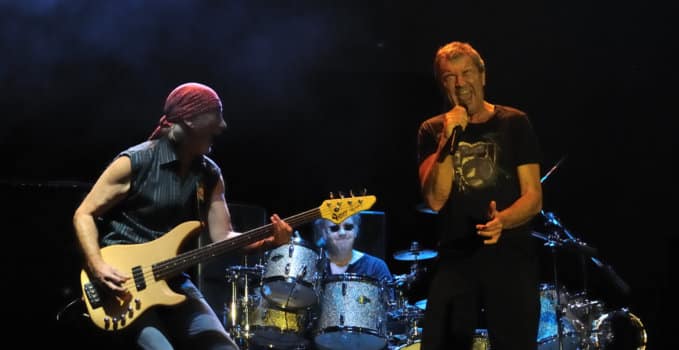 Deep Purple made their live debut at a gig in Tastrup, Denmark, on this day in 1968.
They hadn't been playing together long before their first gig. The group had formed that year in Herford and initially went by the unimaginative name Roundabout. Guitarist Ritchie Blackmore suggested a new name: Deep Purple. Rather sweetly, the inspiration for the name came from his grandmother's favourite song (which had been a hit for Peter De Rose), after his grandmother had repeatedly asked if they would be performing the song! Ah granny's!
Deep Purple are considered to be among the pioneers of heavy metal and modern hard rock, although their musical approach changed over the years. They originally formed as a progressive rock band but their sound shifted in a heavier direction in 1970.
Deep Purple, together with Led Zeppelin and Black Sabbath, have been referred to as the "unholy trinity of British hard rock and heavy metal in the early to mid-seventies".
Their sixth studio album, Machine Head is often cited as a major influence in the early development of the heavy metal music genre. Commercially, it was Deep Purple's most successful album, topping the charts in several countries following its release. The album reached number 1 in the United Kingdom and stayed in the top 40 for 20 weeks. It reached number 7 in the United States, remaining on the Billboard 200 for 118 weeks.
It was recorded through December 1971 in Montreux, Switzerland, and released in March 1972.
Machine Head hit the number one spot on the British charts within seven days of its release, remaining there for two weeks before returning in May for a further week. In the US, the album reached number seven, remaining in the charts for two years.
The rockers were listed in the 1975 Guinness Book of World Records as "the globe's loudest band" for a 1972 concert at London's Rainbow Theatre. What an accolade to have under your belt.
They have gone though several line-up changes over the years. However, their second and most commercially successful line-up featured Ian Gillian (vocals), Jon Lord (keyboards, backing vocals), Roger Glover (bass), Ian Paice (drums), and Ritchie Blackmore (guitar). The massively successful band have sold over 100 million albums worldwide.
Picture Credit: Vladimir Lysenko