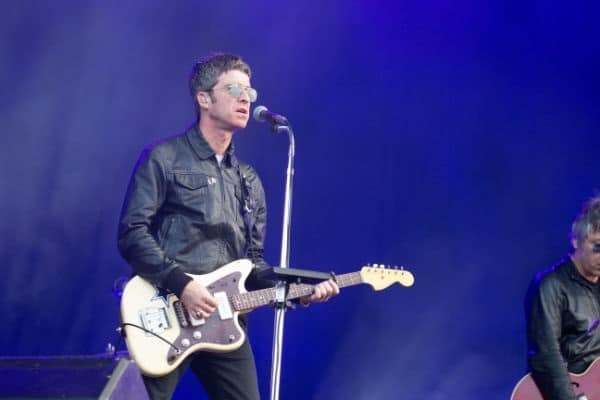 Would you like to listen to the article instead of reading it?
Noel Gallagher is facing huge backlash following his controversial inclusion of disgraced singer Tom Meighan for his upcoming arena tour.
The tour will see Gallagher take in several shows across Europe, including Milan, Dusseldorf, Paris, Stekene, among others.
Other shows also see Gallagher take to the stage at Tokyo, Seoul, and Osaka. Check out the dates here.
The former Oasis' guitarist recent show at New York was forced to be evacuated due to a bomb scare. More on this here.
Gallagher Facing Flack
However, it is Gallagher's recent decision regarding his support act that has been hitting the headlines.
Recently, the High Flying Birds frontman announced that former Kasabian lead singer Tom Meighan will support him for these shows.
This has not gone down well with fans worldwide, unhappy at the decision to include Meighan, who was sacked by his band after admitting to assaulting his partner Vikki Ager.
He was also ordered to pay 200 hours of unpaid community service.
Admitting what he did, Tom Meighan released a statement, apologising for his conduct, revealing that he has undergone treatment for addiction issues.
"I am very sorry and deeply regret my recent behaviour. In no way am I trying to condone my actions or make excuses", Meighan said in his apology to Vikki. "I am completely to blame and accept all responsibility".
Not long after, Tom Meighan and Vikki also announced that they had tied the knot.
"enabled by people"
Gallagher's decision to include Meighan at his upcoming area tour has been heavily castigated by the public online, with some fans even threatening to sell their tickets in protest.
"Honestly F**K Noel Gallagher for that. I don't like spraying my opinions on this all over social media, but an addict is never going to recover properly whilst they're being enabled by people, especially as influential as Noel", one fan wrote.
Another chimed in, "Selling one standing ticket for Noel Gallagher in Glasgow!! I'm so f***kng angry that he's allowing Tom Meighan be his support".
Some sources have even hinted that this decision could be a slight dig at Gallagher's estranged brother Noel, and his friendship with Kasabian singer Serge Pizzorno, who replaced Meighan as frontman.
"Selling one standing ticket for Noel Gallagher in Glasgow!! I'm so f***kng angry that he's allowing Tom Meighan be his support", the source said. "Liam is incredibly close pals with Serge, who openly dismissed his relationship with Tom after he assaulted Vicki".
"Some have said it feels like Noel's decision to get Tom on board could be taken as a slight towards Liam".