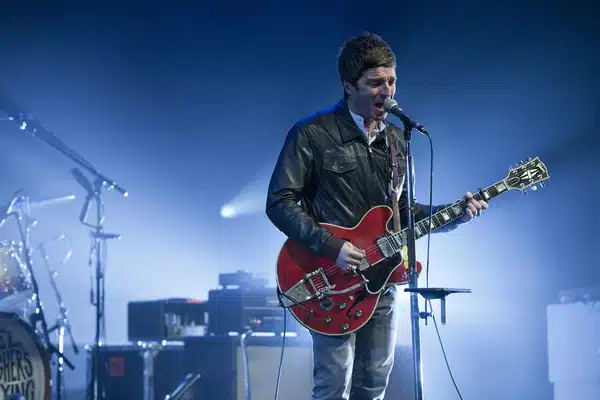 Noel Gallagher's famous guitar which broke at the same time that Oasis split up in 2009, has been sold at a Paris auction for $390,000 (€385,500).
Oasis split up just before they were due to hit the stage at Rock-en-Seine, following a bust up between brothers Noel and Liam Gallagher. This gig was the end of the band's Dig Out Your Soul tour, in support of the album with the same name.
Oasis were of course a major success during the Brit pop movement. They sold more than 60 million albums, and had hits including 'Don't Look Back In Anger' and 'Wonderwall'. 
"pretty happy"
This auction was held by the Artpeges gallery whose co-founder is guitar expert Jonathan Berg. While another co founder for Artpeges Arthur Penault also said that he was "pretty happy" with the session.
After being repaired in 2011, the guitar was presented in a case, with a note from previous owner Noel Gallagher, "peace, love, bananas".
While bidding began at €150,000, it had been reported that bids could have possibly gone even as high as €500,000.  The guitar was eventually sold for €300,000, plus a fee of €85,500.
Other items on the market also included a bondage suit which was worn by Depeche Mode's Martin Gore, which was sold for €15,528.
Other items also included silkscreen prints of Pink Floyd albums, photos of rock stars, along with a vinyl signed by Jimi Hendrix and Jonathan Halliday. That was sold for €10,000.
Looking back, no anger

The legendary guitar symbol of Oasis's split up, is a star of an exceptional auction celebrating rock music.

Register now ➡️ https://t.co/kEk4gTcrRx pic.twitter.com/fOYC7mdOqe

— Artpeges (@artpeges_paris) April 21, 2022
"exploded backstage"
Speaking on the row between Noel and Liam, Berg said that "things had been brewing for a while between the two brothers".  
"It exploded backstage, one of Noel's guitars got broken and that led to the group breaking up", he added.
As the crowd waited for Oasis to hit the stage, however an announcement was made that Oasis had split up.
They not be on speaking terms, however that does not mean that Liam and Noel Gallagher have not been busy since.
Liam in particular will release his third solo album later this month Cmon You Know. That will arrive on May 27.
Liam Gallagher said he also plans to pull out all the stops for his mother's 80th birthday next year. For more on this, click here.