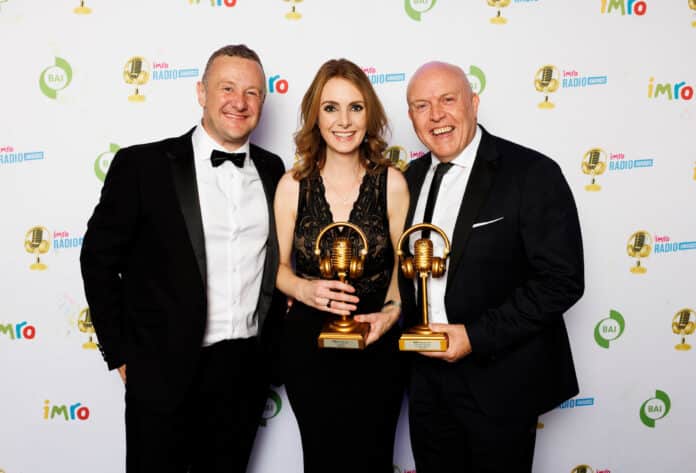 It was twice as much fun on Friday October 7th at a glittering ceremony in the Lyrath Estate where the 2022 winners of the IMRO Radio Awards were announced.
PJ Gallagher, Jim McCabe and Clint Drieberg won Gold for their work raising awareness and over €100,00 for The Jack and Jill Children's Foundation in 2021's #UpTheHill Challenge and Dee Woods was named Radio DJ of the year!
"All the award clichés are true: I was tickled pink just to be nominated in this year's IMRO awards, let alone in the mother of all categories: Radio DJ of the year, but to actually win this is next level. The excitement was off the charts anyway for this year's post-covid ceremony, and now as an award winner I'd love to be able to say I can be really demure and accept this accolade with modest grace but hell I'm getting this emblazoned on a t-shirt! This absolutely rocks and I'll never forget the IMRO awards of 2022. I'm blown away. Sincere thanks to everyone who's made this Dee a DJ of the Year," Dee Woods said of her win.
Reacting to winning the top award for for Best Community Social Action Initiative by getting PJ to cycle on his penny farthing from Howth Head to Hill 16 in Croke Park, Jim McCabe said, "I get a huge amount of pride and a huge amount of joy in winning this award, not just because it was for charity but because of the pain and embarrassment it caused  PJ Gallagher. Which, really let's face it is one of the reasons I come to work most days is to inflict that level of pain on PJ so to be awarded for it is spectacular."
"It was a pleasure and joy to be involved with Jack and Jill.  It was an amazing day and we raised so much money and awareness. I would have preferred if it had all been about me but, hey: It is what it is. Sometimes things just don't happen the way they should, sometimes, it is just unfair and sometimes, children benefit off my talent when it should be me. So we are going to do it again,  I haven't had one thank you card from one child yet, I'll just leave that out there. Next year, paint your pictures and send me a fridge magnet thank you very much," PJ jokingly quipped.
Radio Nova also took home the Silver award for the documentary "A Mod World" by Cathal Funge. Morning Glory scored Bronze in the Breakfast Show category and Kieran McGuinness's "Nova Guestlist" was shortlisted for Specialist Music Programme.
Radio Nova CEO Kevin Branigan said, "We're pinching ourselves today! Congrats to PJ & Jim, Dee Woods and Cathal Funge. Two golds, a silver and bronze at the national IMRO radio awards is awesome and so well deserved!"
The first in-person awards since 2019, the room was electric with the radio industry from all over the island meeting once again! The ceremony was presented by Radio and TV broadcaster Dermot Whelan to a packed room with many of Ireland's well-known radio presenters, producers, programme staff and radio station heads.
You can watch why PJ & Jim are award winners here and listen to "A Mod World" here.