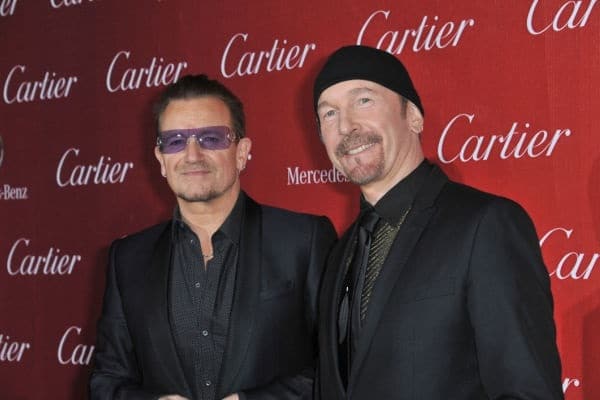 Would you like to listen to the article instead of reading it?
A former musician Peter McCluskey has revealed a secret stash of pictures of U2, after selling the band's very first backstage pass.
For a lot of their gigs during 1979, U2 were supported by McCluskey's old band The Strougers.
McCluskey has now agreed to sell a rare ticket, given to him by The Edge. This ticket meant that you did not have to pay the £1 at the door to see the band at places like the Baggot Inn.
Peter also agreed to throw in some photographs he took of U2 in the early days. These snaps include U2 playing gigs at places like McGonagle's in 1979.
"Fluffing up Bono's hair"
Among these photos, is an iconic snap of Bono's wife Ali "fluffing up" her husband's hair before a gig.
Peter also had this to say.
"I remember we were supporting U2 in the Dandelion and The Edge or Dave as he was known then, took a few passes out of his Explorer guitar case and passed them around to the guys in The Strougers".
"treasure hunting"
Estate agent Jason Smith had a chief interest in U2 memorabilia from 1976-1982. He was keen on this stage pass for a long time and was willing to pay top dollar for it.
Peter McCluskey was hoping to donate the €1,050 from the sale to Crumlin Children's Hospital. In 2019, Peter also donated a live tape of U2 to Aaron Govern, a young fan who passed away to cancer in 2020.
The new owner of the pass, Jason described the tracking down of it as "treasure hunting".
He also said, "These items are hard to find. Generally it takes quite a bit of research, time and help from many to find and acquire such items. I honestly couldn't put a figure on the amount of money I've spent on U2 stuff over the past 30 years".
"In fact, I don't think it's a number I'd like to know or keep track of, it has skyrocketed as I located rare items".
"If an item becomes available that would fit nicely into my collection I tend to offer slightly more than market for the item if my budget allows".
U2 "have been brilliant"
Peter McCluskey who lost his job during the pandemic, but retrained as a TEFL English teacher, described his experiences with Bono and co as "amazing".
"U2 ­anywhere back then were amazing", he explained.
He also added, "I can't claim to know U2 personally but back then, supporting them, and any time I've met them since, they have been brilliant and would talk to everyone".
"I remember photographing U2 at Self Aid for Sounds Magazine. Bono came off for the encore and walked right to the back of the stage at the RDS, and started drinking with a few locals who were hanging around".
"He was just shooting the breeze with these guys who couldn't believe it. Then the crowd started screaming for U2, and Bono said 'Ah sorry lads they're looking for me' and went back on stage and U2 finished the set".