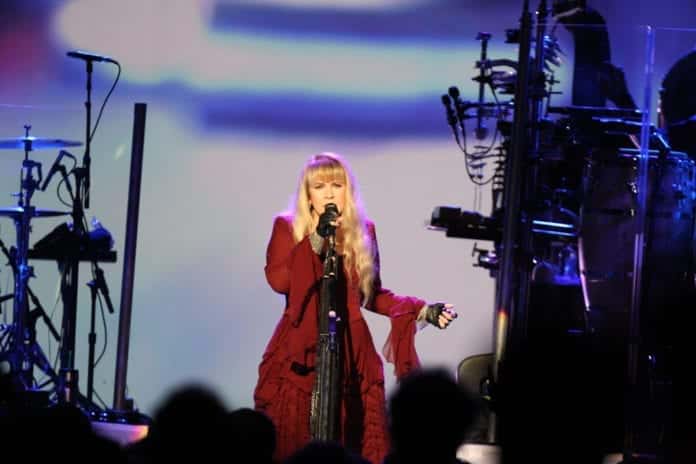 Singer Stevie Nicks has cancelled upcoming shows due to the spike in Covid cases in the US.
The Delta Variant has spread, with America averaging over 100,000 cases per day for the first time since February.
Nicks had been due to perform in California, Colorado and Texas later this year, however these shows have been scrapped.
Despite being fully vaccinated herself, Nicks remains "extremely cautious" over the rising cases.
"Challenging times"
"These are challenging times with challenging decisions that have to be made", Nicks said in a statement online. "I want everyone to be safe and healthy and the rising Covid cases should be of concern to all of us". 
She continued, "While I'm vaccinated, at my age, I am still being extremely cautious and for that reason have decided to skip the 5 performances I had planned for 2021".
"Because singing and performing have been my whole life, my primary goal is to keep healthy so I can continue singing for the next decade or longer".
"I'm devastated and I know the fans are disappointed, but we will look towards a brighter 2022".
Following Nicks' cancellation, The BottleRock Napa Valley music festival confirmed that Chris Stapleton will replace Nicks as headliner for their show in September.
The Austin Limits Music Festival, where the former Fleetwood Mac star was also due to perform said they will announce an update soon.
Nicks' scheduled performance at the New Orleans Jazz & Heritage Festival in October was also cancelled due to a rise in Covid cases in the US.
Stevie Nicks & Lindsey Buckingham
Meanwhile, Stevie Nicks' ex bandmate and former partner Lindsey Buckingham said that "pretty much everyone would love to see me come back", if he was to return to Fleetwood Mac, having been fired from the band in 2018.
On Buckingham's departure, Stevie Nicks had said that he was fired from the band as he wanted too much time off for his solo career.
Lindsey Buckingham had said that his departure had also harmed the band's legacy. He also added that he is back in touch with his "soul mate" Mick Fleetwood.
"We love each other and we reinforced each others sensibilities in the band", he said.
More on this Nova report here.
Stevie Nick's debut solo album "Bella Donna" reached its 40th anniversary this year. Find out what she thinks about the album now here.