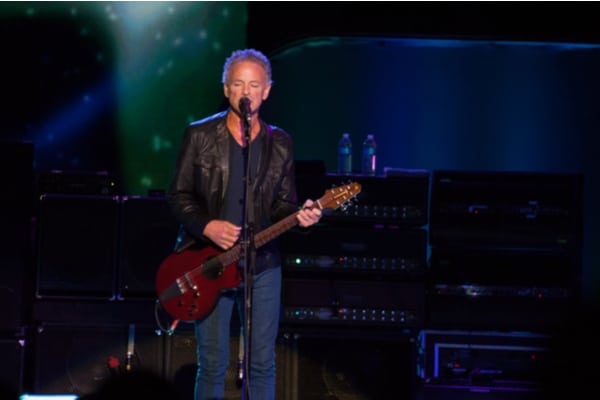 Whilst opening up about his dismissal from Fleetwood Mac, Lindsey Buckingham made the bold declaration that "pretty much everyone would love to see me come back".
Buckingham was fired from the band in 2018 and was replaced by Neil Finn of Crowded House and Mike Campbell from Tom Petty and the Heartbreakers. More here.
Stevie Nicks, Buckingam's ex partner and bandmate also said that Lindsey was fired from the band as he wanted too much time off to work on his solo career.
Buckingham had also recently admitted that he never got that "closure" following his split from Nicks. He also said that he has not been in contact with Nicks, apart from when she wrote him a letter following his heart surgery in 2019.
"pretty much everybody would love to see me come back"
Since then, Lindsey Buckingham has said that he is back in touch with "soul mate" and co founder of Fleetwood Mac, Mick Fleetwood.
"We love each other and we reinforced each others sensibilities in the band", he said on the WTF Matt Macron podcast.
He also added, "it's my sense that pretty much everyone would love to see me come back".
While also admitting that he is unsure of a return to Fleetwood Mac was "doable", Buckingham also said he felt that his departure in 2018 harmed the band's legacy.
He said, "What was most disappointing about it (his firing) to me was not, 'Oh, I'm not gonna get to do this tour'. What it was (is) again, we spent 43 years building this legacy which was about rising above things – it stood for more than the music". 
Meanwhile, Lindsey Buckingham has recently released a new single for his upcoming self titled solo album. The song is called On The Wrong Side.
Comparing the song to Fleetwood Mac's "Go Your Own Way", Buckingham said,"It's about the peaks and valleys of life on the road with Fleetwood Mac". 
"Go Your Own Way is not a happy song, subject-matter wise, but it was an ebullient song musically", he added."This was sort of the same idea". 
More on that story here.
Would you like to see Lindsey Buckingham return to Fleetwood Mac? Have your say!