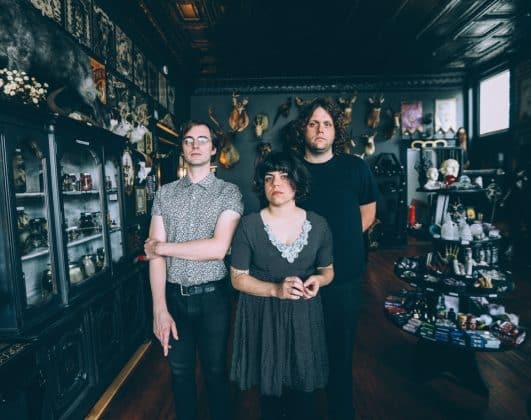 New York punk rockers Screaming Female have announced a show at Dublin's Grand Social in celebration of their excellent new album All at Once. Tickets for their show on the 6th of September will go on sale this Friday at 10 am. There's tunes from the rockin' new album available to listen to below.
The band collaborated with producer Matt Bayles who has worked with the likes of Pearl Jam and Mastodon. They set out to make an album in the spirit of a salon style gallery show, where larger pieces provide an eye-level focal point to a galaxy of smaller works.
Concision took a back seat to experimentation, with arrangements meant to evoke the energy and spontaneity of their live performances. Marissa Paternoster's vocals on the new record are mighty, they are a mix of dulcet harmonies and veiled melancholic aggression.
Now more than a decade into its existence, Screaming Females can claim something that few of their peers possess, experience. Drummer, Jarrett Dougherty explains, 'When you've been a band for 12 or 13 years, the resources can dry up and you just go back to what feels comfortable.'
UK / IRELAND! @Screamales Screamales will head across the pond while #OnTourForever this fall including @EOTR 💥 tix at https://t.co/W9FAoou2Vk pic.twitter.com/d3G2xhSXz0

— Don Giovanni (@DonGiovanniRecs) April 18, 2018

The band decided to opt for the harder and more rewarding route, 'the other option is that you develop stuff that a younger band would not have been able to do.' All At Once is the evidence of that growth in its sprawl and scope as well as its subtleties.
Singer Paternoster describes how this more challenging work took some time, A song like 'Glass House' is something we knew we were capable of, but it took a while to fully embrace. It's very simple just bass, drums, and two simple riffs. In the past, I might have insisted on adding more. Practicing self-restraint is something I have consciously been trying to do.'
Speaking of the new record the band said, 'All At Once is a reminder there's a hopeful and joyful energy to underground music-making. Patience, perseverance, and long term dedication still work.'
Screaming Female will play the Grand Social on September 6th, tickets go on sale this Friday at 10 am.