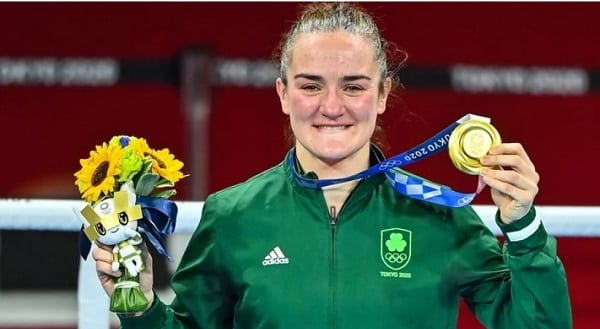 Kellie Harrington will return to Dublin today, following her gold medal succes in Tokyo on Sunday.
Harrington secured the medal, after securing victory over Brazil's Beatriz Ferreira in that gold medal decider.
Harrington is to touch down at Dublin Airport along with bronze medalist Aidan Walsh and the remaining Olympians at lunchtime. However, the public have been also urged not to gather in large crowds by the airport.
Harrington had previously beaten Imane Khelif to secure bronze, before seeing off Thailand's Sudaporn Seesondee on the semi-finals.
Heading into this final, Kellie Harrignton's father Christy had urged the entire country to pray for her daughter.
"But we would ask people to have faith, to say an auld prayer for us, in case our message doesn't get through", he said.
"My wife doesn't watch any of her fights", Christy added. "No mothers watch the fights, it's funny isn't it?".
"She will pray, it is not a religious thing, it is an Irish thing".
Kellie Harrington's dad Christy had also said that five sunflowers which were planted outside their Dublin home had been a lucky charm. Christy does not have a garden himself, however he kept the seeds in reserve, having planted the sunflowers by the HSE Care Centre whe he works as a cleaner.
This has now become a local attraction, with people stopping to take pictures of it.
"It is just magic", he had said."People are coming all the time. It's the simple things that count".
Harrington Homecoming
After she touches down in Ireland, Harrington is to travel through North Dublin's inner city via an open top bus.
Harrington will also travel through Portland Row, the place where she grew up. The locals have already hailed her as the "Queen of Portland Row".
Dublin City Council are also encouraging local people only to gather around the area.
The rowing teams had already arrived in Ireland 9 days ago. Paul O'Donovan and Fintan McCarthy secured gold for Ireland in the men's rowing, with the women's four of Fiona Murtagh, Aifric Keogh, Emily Hegarty and Eimear Lambe securing bronze.