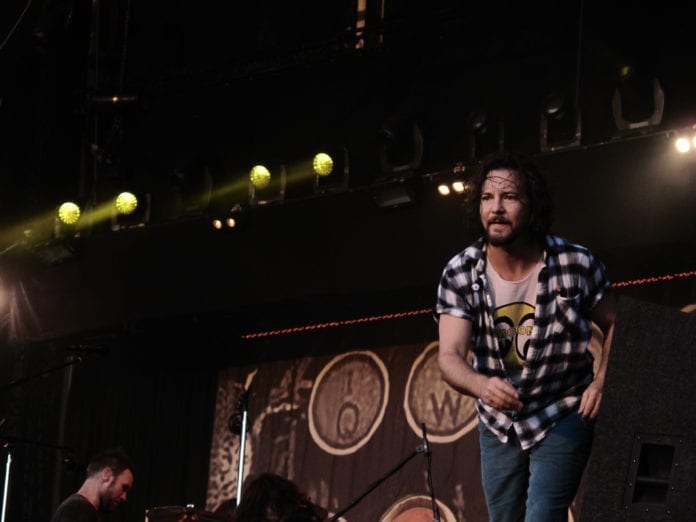 Fresh from his recent induction into the Rock and Roll Hall of Fame, Eddie Vedder is playing Dublin's 3Arena tonight.
There are a few restrictions in place regarding security and performance etiquette so check them out below, and get there early so you can enjoy the gig!
MCD have advised that "due to recent events and heightened awareness, the following policies will apply regarding the Eddie Vedder solo tour dates.
We ask that you carefully review the following updated security restrictions and protocols that will apply":
-Backpacks, larger purses or bags are not allowed; only purses or clutches measuring 4.5in/11.4cm x 6.5in/16.51cm or smaller will be allowed.
-A full body pat down search and/or metal detector search will take place prior to venue entry.
-Pocket contents will need to be completely emptied and viewed during the search process.
-We encourage patrons to minimize jackets and additional layers when possible.
They've also advised that "due to the intimate nature of Eddie Vedder's solo performances, the following activities will be prohibited once Eddie's performance begins":
-No mobile devices, iPads, tablets or similar devices shall be used during the performance – including taking photographs and/or videos.
-No GoPro devices or GoPro sticks are allowed.
Adding "these requests are for the enjoyment of everyone attending these performances, as the distractions that are created by constant use of the above-mentioned devices become frustrating to audience members as well as the artist.
Over on his Facebook page, the former Pearl Jam front man is showing he's gearing up for his Irish gig.
Joining him as a special guest tonight is our own Glen Hansard.
Doors are at 6.30pm; Glen Hansard will play from 7.30pm and then the man himself will take to the stage around 8.45pm*.
(*please note times are subject to change)
Photo Credit: Michele Boccamazzo