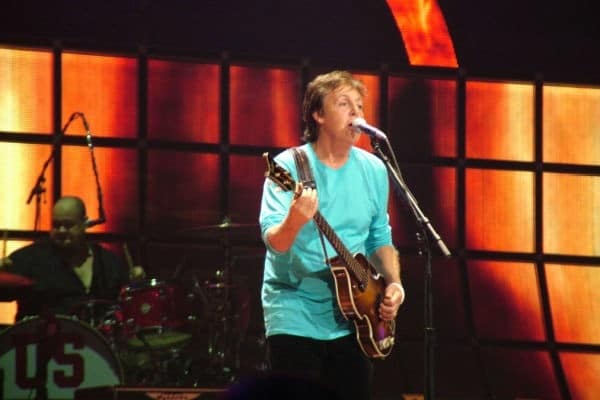 Would you like to listen to the article instead of reading it?
Paul McCartney has revealed that the Beatles "loved the idea" that Russians secretly listened to their "forbidden" music.
Along with other western artists, The Beatles' music was banned from being imported into, or played in Russia from the 1960s until the 1980s.
In 2003, Paul McCartney spoke to President Vladimir Putin in a news televised interview.
He asked Putin who was serving his first year as president, if he had listened to the Beatles, and whether or not the music was banned from being played in the Soviet Union.
"The music was very popular like a breath of fresh air, a window into the outside world", Putin had said.
When asked if the music was banned, Putin replied, "It wasn't banned, but people weren't allowed to play it in the Red Square as recently as the 1980s. The Beatles had been widely listened to in the Soviet Union despite officials' disapproval".
"didn't want people to know"
Fast forward 20 years, Paul McCartney addressed this ban on the podcast, McCartney: A Life In Lyrics, with poet Paul Muldoon.
This podcast also focussed on the famous Beatles track, 'Back in the U.S.S.R'.
"Everyone in Russia goes back to the Beatles period and remembers having to smuggle records or it was all very you know, little rooms where you could play and you didn't want people to know", McCartney said.
He also added, "You didn't want the authorities to know that you were listening to this forbidden group, which really, we loved the idea of that – that we were getting smuggled along with Levi's jeans. This was like true cultural arrival".
"art is dangerous"
It was at this point that Muldoon put it to McCartney that "art is dangerous".
To which the musician replied, "To some people. We always thought that we were on the right side, that if we were dangerous, we were dangerous to the Russian authorities, and to us that said they're not that good".
He also added, "That was how we felt, and I think it was true to a large extent that they were trying to suppress this Western influence and it goes on…I know there was a period really when you thought 'oh, it's all clearing', but it's actually the suppression is back big time…God knows what the politics and the realities are behind it at any rate. So for me, it's kind of nice to just escape into a song like this".
This podcast was also launched by McCartney earlier this month. More on this report from Nova here.