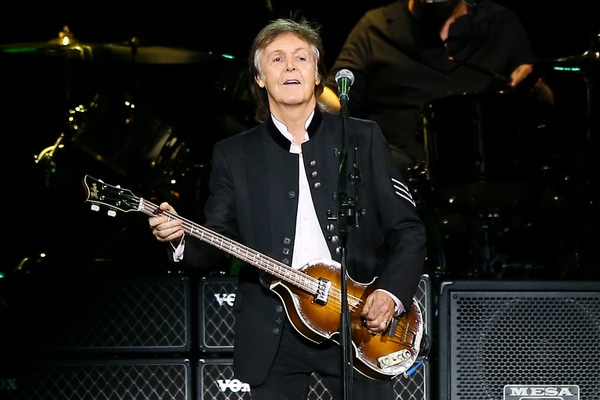 Paul McCartney took to the Glastonbury stage last night accompanied by his former bandmate John Lennon, no less.
Through the magic of technology, John Lennon was brought back to life where the duo sang the Beatles hit I've Got A Feeling.
This was the first time the Beatles singer took the stage at Worthy Farm in 18 years.
It was a record breaking performance all round, as the performance also made McCartney the oldest solo act to headlines at Glastonbury Festival.
The former Beatle celebrated his 80th birthday exactly a week ago.
At one point during the performance, fans had broken into a spontaneous rendition of Happy Birthday for the former Beatle. Paul seemed initially taken aback by the moment.
More Surprises.
John Lennon was not the only surprise in store for the crowd. Foo Fighter fans were given the ultimate treat when Dave Grohl made his first appearance since the death of his bandmate Taylor Hawkins.
Grohl was given a hero's welcome as he strode onto the Pyramid Stage to duet with McCartney on a version of I Saw Her Standing There.
McCartney explained to the crowd that Grohl had flown in especially for this. Grohl responded saying that he would never miss the chance to be there with him.
McCartney then brought out Bruce Springsteen to play Glory Days and I Wanna Be Your Man.
However, Paul McCartney saved the best until last with the appearance of John Lennon. He told the crowd the crowd he would love to "play live with John on tour", thanking The Lord Of The Rings director Peter Jackson who he said had made it technically possible.
Calling it "so special", he went on: "I know it's virtual, but there I am singing with John again. We're back together."
The set which ran to nearly three hours, Paul also paid tribute to his two other Beatles bandmates, Ringo Starr and George Harrison.
He referenced the band's creation, telling the crowd: "These four boys got together and formed a band. And they did quite well."
Saturday's headline performance was one of the most-anticipated Glastonbury sets in years. Diehard fans were staking out a front-row place more than 12 hours before the star was due to play.