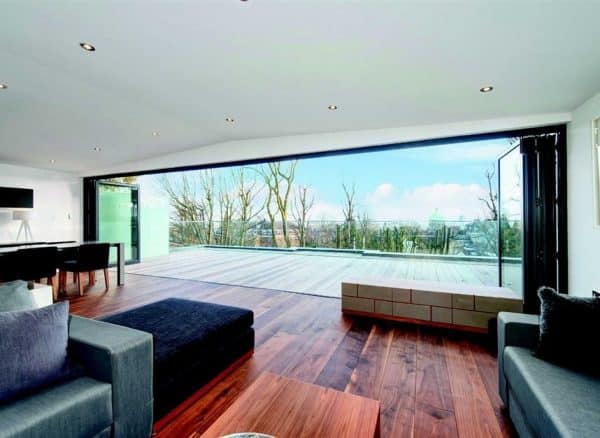 The apartment that inspired As You Were is now on sale with a listing price of £3,250,000 The five-bedroom, five-bathroom is located in Cholmeley Park, Highgate Village. Photos of the pad are available below…
Property site Dexter's calls it a 'visually stunning duplex penthouse apartment (possibly one of the best in Highgate) affording spectacular and dramatic views over central London's city skyline and beyond from a vast 460-square-foot roof terrace.'
According to the site, the gaff is located 'over the second and third floors of a discreet modern building and offers wonderfully bright, striking and contemporary accommodation in the region of 2,400 square feet, featuring an outstanding 29′ x 23′ reception room with the entire length of glazed curtain wall opening directly on to the roof terrace.' The building is within walking distance to the Highgate and Archway stations of the London Underground; Hampstead Heath is also nearby.
Liam Gallagher bought the penthouse three years ago and decorated it with Beatles memorabilia, which apparently has since been removed, as you can see in the photos.
Gallagher cited the apartment last year as an inspiration for him to get into the mindset to write the material on his debut solo album As You Were. In an interview with The Evening Standard, Liam said, 'It's like 360-degree views over Ally Pally [Alexandra Palace], so it was just pure light. And that helped my head a bit.'
Meanwhile, despite enjoying an amazing start to his solo career he has always made it clear he would love an Oasis return. However, speaking to The Daily Star, Liam believes he's better off without brother Noel, 'I think Oasis is over, it's sad but that's the way it is. At the moment I don't want to be nowhere near that guy, because he's not the guy that was in Oasis, I'm still the same guy that was in Oasis. He's a bit pompous and a bit of a snob.
Photos: Dexters