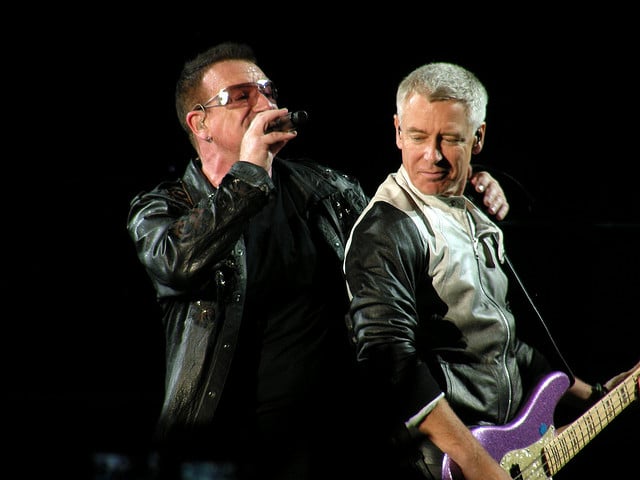 Even though U2 have been flying the white flag, musicians continue to criticise them about their free album giveaway on iTunes, this time it's Pink Floyd's drummer Nick Mason.
It has nearly been five months since Songs of Innocence was offered to 500 million Apple customers for free, however that hasn't stopped countless fellow artists, industry experts and music critics slating U2 for the experiment.
Speaking with GQ, the drummer claimed that the Apple/U2 venture "backfired" and says he was surprised Apple got away "scot free" in the intervening months.
He did preface his comments by admitting that if the Floyd had been offered the same deal, they probably would have taken it.
Mason says: "Let me be completely clear about my position: if Apple had come to me and said, 'Nick, we want to release your album in exchange for £50m', I couldn't have thought of a better idea."
"It's made everyone think again about how they want their music delivered, given or sold. […]it highlights a vital aspect to the whole idea of music in the 21st century."
Nick did seem flabbergasted that Apple have quietly slipped away from the album giveaway debacle without any criticism. "What's also interesting is that Apple seem to have got off scot-free. No-one's blaming them. Apple has done great things, but it has also contributed to the devaluation process."
He took one final parting shot at Apple before talking about the streaming site Spotify and their payment structure to musicians. "iTunes is already beginning to look rather passé, and instead it's Spotify that looks like the future. What we need is another two or three billion people using it, then it would make more sense for musicians. At the moment, the pay-out, particularly for unknowns and only slightly-knowns is… pathetic."
Previously, Iggy Pop slammed the Irish band, as well as Sharon Osbourne, who wrote on twitter: "U2 you are business moguls not musicians anymore. No wonder you have to give your mediocre music away for free cause no one wants to buy it." Rapper Tyler The Creator described waking up to Songs of Innocence on his iPhone to "waking up with Herpes."