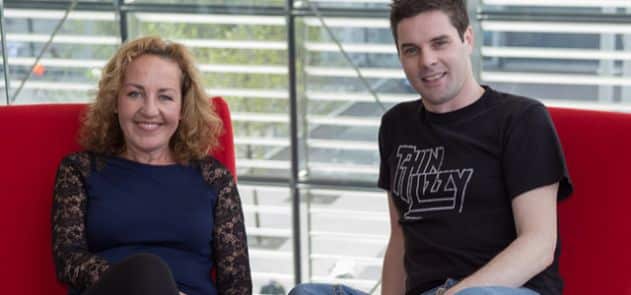 Dust off your frocks and tuxedos, the annual PPI Irish Radio awards are fast approaching and Radio NOVA has made the shortlist in two categories.
Now in their 14th year, the awards were established to promote and recognise all that's excellent about Irish radio and to acknowledge the art and originality of programme making.
The PPIs are like the Academy Awards for radio, the awards are highly sought after within the Irish Radio Industry. They span 36 different categories from music to speech programming, news & sports to station production.
The 2014 event is the first time entries were received from all radio stations broadcasting in the Republic of Ireland.
Our very own flagship breakfast show, Morning Glory, presented by Joan Lea and Nova favourite Marty Miller, were nominated for best 'Breakfast Programme'. It's an astonishing accomplishment, as Morning Glory has only been on air for less than 9 months.
Marty Miller took to Twitter to exclaim his delight.
Bloody brilliant! #MGNOVA nominated and short listed for 2014 @PPIRadioAwards. Chuffed with even that! @radionova100

— Marty Miller (@MartyMtweets) September 3, 2014
Speaking to Radio NOVA, Deputy Programme Director, Dave Alsybury said, "We're absolutely thrilled to be nominated in two PPI categories at such an early stage in the life of our new breakfast show. Our aim from the outset was to do things differently, creating an interactive and fun breakfast show for everyone. Coming after the recent JNLR, which saw substantial increases for us in quarter hour listenership during breakfast, this is great news".
As well as being nominated for best breakfast programme, Radio Nova's Breakfast Glory, was nominated for best 'On Air Competition'. In April, they ran the competition 'Date My Dad', an entertaining yet heartfelt on-air dating challenge. It featured fifty-one year old, father-of-one and NOVA listener Tom Hendley, searching for love.
The challenges included Hendley making cocktails, receiving a full makeover and even put his dancing skills to the test, with Tango lessons. Read more about how Tom got on here.
Commenting on the nominations, CEO Kevin Branigan said, "Obviously we're chuffed to be short-listed and we're particularly pleased that we're in these categories with such prestigious other stations. NOVA's on the air just four years, with our new breakfast show on only 9 months, and to be short-listed in such competitive categories with major players like FM104, Today FM, 98FM, Spin and Red FM is a great achievement in itself.
The PPI nominations are just a continuation of an exceptional year for Radio NOVA. The station has gone from strength to strength so far this year. In the latest JNLR radio figures, NOVA's daily listenership has increased by 30% and the radio station has improved its market share by 21%.
Check out who Radio NOVA were nominated with below.
Category A3: Breakfast Programme
FM104′s Strawberry Alarm Clok with Nobby and Jim-Jim – FM104
Fully Charged with Ryan and Tracey – Spin 103.8
Morning Glory on Radio Nova – Radio Nova
The Ian Dempsey Breakfast Show – Today FM
The KC Show on Cork's Red FM – Cork's New Red FM
Category D2: On-Air Competition
Date my Dad on Radio Nova – Radio Nova
Dublin Talks Selfie – Dublin Talks with Adrian and Jeremy – 98FM
iPaddy – Spin 103.8
Live 95FM's Runaway Bride – Limerick's Live 95FM
The Drop – Spin 103.8
The Full list of nominees are available here.