Queen + Adam Lambert have confirmed The Boomtown Rats and The Darkness as special guests for their open-air concert at Marlay Park on July 8.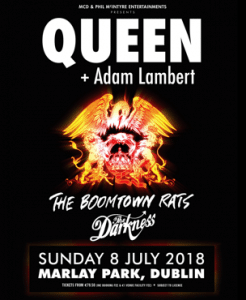 The announcement follows unprecedented demand from Irish fans left unable to attend their amazing 3Arena show last year as these pics from Danni Fro show.
Brian May said: "The almost unanimous reaction to our last round of dates in Europe was this is absolutely the best production we've ever mounted. There has been a great demand for us to go back. So, while we're still physically able to perform at those high energy levels on this massive scale, we thought… 'YES !! One more around the block!' It's live, it's dangerous, and it takes every ounce of fitness we can muster. But it's still fun!"
Adam Lambert added: "I enjoyed every second of the recent European tour and really felt the love in every city. I can't wait for us to get back there again in the summer!"
The summer concert will again showcase Queen + Adam Lambert's spectacular new stage production which was conceived around the 40th anniversary of Queen's News of the World album and drew rave reviews from our own Morning Glory host Marty Miller who loved it!
Wondering if you should have gone to @QueenWillRock last night in #Dublin? (And yes, @adamlambert was outstanding!) @radionova100 pic.twitter.com/1E4WZ3XIdM

— Marty Miller🎙 (@MartyMtweets) November 26, 2017
Queen + Adam Lambert's magnificent 2017/2018 touring show has been custom tailored for the band by some of the world's most cutting-edge creative talents. Responsible for design and production is Ric Lipson from Entertainment Architects Stufish Productions, renowned worldwide for their innovative work with artists such as Pink Floyd, the Rolling Stones, and U2, as well the opening and closing ceremonies of the 2008 Beijing Olympics.
Making use of over 300 moving lights during the show is the highly acclaimed lighting designer Rob Sinclair, who has illuminated tours for major artists including Adele, Peter Gabriel and Kylie Minogue. The production's genuinely eye-popping laser elements are the work of ER Productions, behind both the opening and closing ceremonies of the London 2012 Olympics and seen by over 900 million people worldwide.
On the musical side, the Queen + Adam Lambert touring band also features Spike Edney on keyboards, Neil Fairclough on bass, and Tyler Warren on percussion.
Since first sharing the stage for the American Idol final in May 2009, Queen + Adam Lambert have proved to be a hugely successful global partnership, having now played more than 130 shows in every corner of the world.
Formed in Dublin, The Boomtown Rats exploded out of Ireland in 1976 fronted by singer Bob Geldof whose defiant motormouth, arrogance and flagrant disrespect for authority endeared him and his band to every youth who felt weighed down by the heavy-handed blandishments of church and state. They first toured with the Ramones and Talking Heads rocking and mocking the status quo alongside the Sex Pistols, The Clash, The Jam and The Stranglers. They became one of the biggest bands of the late 70s / 80s with a string of top ten hits and platinum albums, earning them Brit Awards, Ivor Novellos and Grammy Awards. Making history as the first Irish band to have a UK no 1 hit with 'Rat Trap', they went on to top the charts in 32 Countries with 'I Don't Like Mondays' and racked up 6 era-defining albums.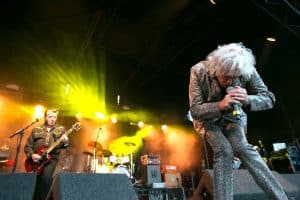 The Darkness released their Number 1 debut album Permission to Land in 2003, which went five times platinum and sold over 1.5 million copies in the UK alone. They headlined Ireland's Oxegen Festival in 2004 and won three BRIT Awards the same year for Best Group, Best Rock Group and Best Album. They also won two Kerrang! awards for Best Live Act and Best British Band. They released their latest album Pinewood Smile last year.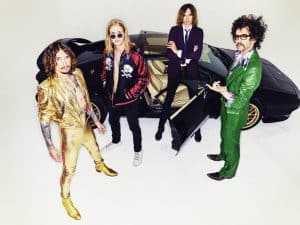 Tickets from €79.50 are on sale NOW via Ticketmaster