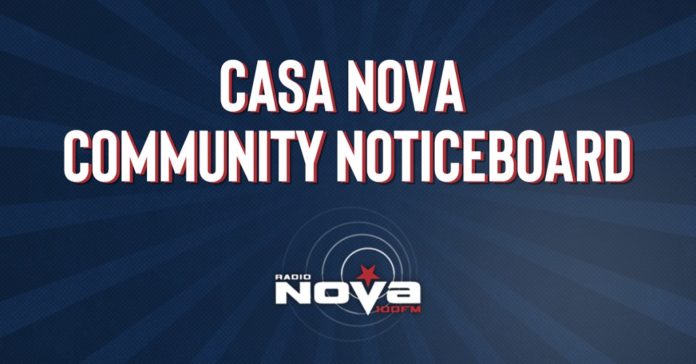 CASA NOVA is a community noticeboard on Radio NOVA.
An invitation to you to get in touch and tell us about an event, fundraiser, online class, or community initiative happening in your area.
Whatever it is, we want to know!
Just email us the details at: [email protected]
It's all part of Radio NOVA's 'Road To Well' offering support to those who need it most.
JUNE/JULY/AUGUST
Full of magic and fun, Malahide Castle And Gardens interactive Fairy Trail is perfect for kids of all ages.
Family friendly in every sense of the word, the Fairy Trail is an enchanting experience in the wooded West Lawn.
The trail is approximately 1.8km which will take about 1hr 15mins to get around…although time flies when you're having fun with fairies!
More info at www.malahidecastleandgardens.ie
Dublin Circus Project takes place in varies locations across Dublin until Thursday 19th August
Learn how to be a circus star too with workshops from the performers, laugh a lot, challenge your body and learn cool new tricks!
Family event suitable for children 6-12 years.
More info at www.dublincity.ie
Blast off with The Festival of Curiosity's DIY Rockets workshop on Saturday July 24th.
This exciting and explosive online family workshop will show you everything you need to know to make lots of different types of rockets so budding astronauts can take off for an outdoor adventure this summer.
The DIY Rockets workshop is a free virtual event at 2.30pm – 3.30pm on Saturday July 24th and children must be accompanied at all times online by an adult.
More info on all events is available here: www.festivalofcuriosity.ie
Candlelight: The Best Of Movie Soundtracks takes place at Smock Alley Theatre, Sunday 1st August.
Surrounded by the gentle glow of candlelight, you'll listen to musical masterpieces created by the brilliant minds of Ennio Morricone, Henry Mancini, James Horner and John Williams, among others.
No doubt these tracks will sound familiar, as they give life to films such as Jurassic Park, Harry Potter and Star Wars. Still, with this concert's sublime performance and stunning atmosphere, you'll feel as if you're listening to them for the first time.
More info at smockalley.com/whats-on
Inside Out is a series of FREE summer events for children and families taking place online and outdoors from July 10th to August 19th. Organised by Dublin City Libraries and Arts Office,
A wide range of family-friendly events will be held online, with additional outdoor events taking place in Ballyfermot, Ballymun, Coolock, Phibsboro, and Walkinstown Libraries over the course of seven weeks.
From dance to drama to design, there will be something for everyone to enjoy at Inside Out!
For more information on activity dates and times and to book events visit: www.dublincitylibraries.ie
Taste of Dublin is back! 'Savour the moment', the theme for this year's event, is returning to the stunning Iveagh Gardens from the 1st-5th September 2021.
Over five incredible days visitors can enjoy Ireland's latest, greatest and hottest restaurants, mingle with home grown chefs, indulge in gourmet produce, or simply relax and enjoy being outdoors in the city with friends.
To ensure that Taste of Dublin can be delivered in a safe environment, additional sessions have been added with a reduced capacity per session.
More info at  dublin.tastefestivals.com