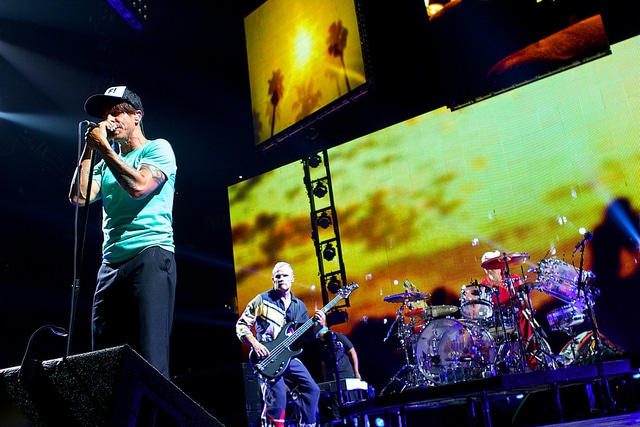 Red Hot Chili Peppers recently performed at a charity event where they covered Jimi Hendrix's 'Fire'. The band played a rare acoustic set in Los Angeles over the weekend.
The band performed at a charity gig at the Silverlake Conservatory of Music last Saturday night. The band opened the event with Kamasi Washington and John Legend also performing at the charity show.
Red Hot Chili Peppers played a total of five songs during their set which included some of the band's biggest songs such as 'Californication', 'Around The World' & 'By The Way'. They finished off the set with a rousing cover of Jimi Hendrix's 'Fire'.
Judging by the videos that surfaced online of their performance, Red Hot Chili Peppers don't really do normal acoustic sets. They had the same energy during their acoustic set as if it was a full electric performance.
The event attracted over 300 people and included an auction of art by famous artists including Damien Hirst, Jeff Koons and Shepard Fairey with all proceeds going to support the Silverlake Conservatory Of Music.
Red Hot Chili Peppers said they were hesitant to play any new material at the event because they knew people would be able to record it. You can check out the band playing 'Fire' by Jimi Hendrix here.
Photo Credit: Ultra 5280