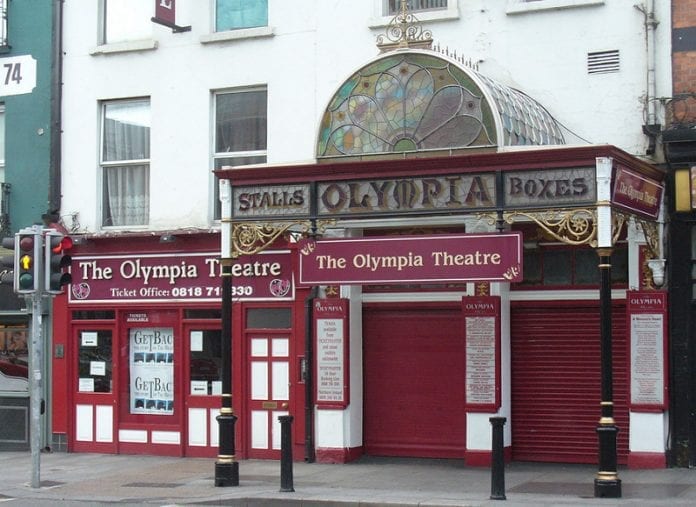 The smash hit musical Once is coming home this summer. Described as "a love song to Dublin", the musical based on the 2007 indie film of the same name will return to Dublin's Olympia Theatre this July.
Audiences will have a chance to catch the multiple Tony Award-winning musical from July 1st – August 26th. It's back for its eight week run due to demand. This is the third consecutive year the hit has come back to Dublin and for the first time ever will feature an all-Irish cast.
A great choice of venue; the Olympia is looking good these days after its recent spruce up. Over €4 million was invested in the refurbishment of the Dublin's oldest theatre which is situated on Dame Street.
The musical stage adaptation of John Carney's charming film features music and lyrics by the Frames front man Glen Hansard and Markéta Irglová. Hansard was recently back in Hollywood, California for Oscar season. He was honoured at the 12th annual Oscar Wilde Awards last week where he was praised by actor Jason Segel. He later performed at the non-profit US–Ireland Alliance event with with well-known Irish Duo Glenn & Ronan (Glenn Murphy and Ronan Scolard.); then had Irish poet Stephen James Smith join him on stage for recitation of Smith's poem 'My Ireland'.
The film was not the first time Hansard and Irglová had teamed up, they had previously performed music together as the Swell Season. The duo of course went on to win an Oscar for Best original song for 'Falling Slowly' which they composed and performed. Not the only accolade awarded to the film; it also won the Independent Spirit Award for Best Foreign film and the sound track received a Grammy nomination. The musical's book written by Irish playwright, Enda Walsh also received a Tony award.
First performed in 2011, it has since played on Broadway and across America, in London, Seoul, Melbourne and Toronto. Once, the heart-warming love story following two struggling musicians in Dublin is a show not to be missed.
Tickets are from €25 and on sale from usual outlets now.
Picture Credit: candyschwartz