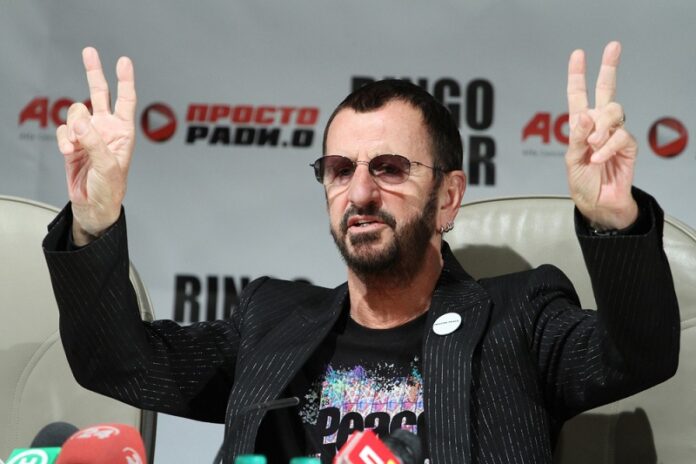 Ringo Starr has announced he is releasing a new EP called 'Zoom In' that features Paul McCartney, Dave Grohl, Finneas and many more.
The former Beatle recorded the new EP at home in lockdown. Starr has released the first song from the new record entitled 'Here's To The Nights', you can check it out below. It features LA songwriter Diane Warren.
"When Diane presented this song to me I loved the sentiment of it". This is the kind of song we all want to sing along to, and it was so great how many wonderful musicians joined in" said Starr, per NME.
"I wanted it out in time for New Years because it feels like a good song to end a tough year on. So here's to the nights we won't remember and the friends we won't forget – and I am wishing everyone peace and love for 2021."
The first release is a star studded collaboration organised by Ringo Starr. It features Paul McCartney, Joe Walsh, Finneas, Sheryl Crow, Chris Stapleton, Lenny Kravitz, Ben Harper, Dave Grohl, Jenny Lewis Corinne Bailey Rae, Eric Burton, and Yola.
They all contribute to the backing vocals in the rousing chorus 'Here's to the nights we won't remember/With the friends we won't forget/May we think of them forever/As the days that were the best'.
The song also features instrumental contributions from Toto's Steve Lukather, the Heartbreakers' Benmont Tench, Bruce Sugar, Nathan East, Charlie Bisharat, and Jacob Braun.
This new EP is the follow up to Starr's 20th solo album released in 2019 called 'What's My Name'. 'Zoom In' will be released on March 19, 2021 via Universal. It is available to pre-order here.
Despite the pandemic, Starr has had a good year as The Beatles' company Apple Corps reported record high profits.
Here's To The Nights track list
1. 'Here's To The Nights'
2. 'Zoom In Zoom Out'
3. 'Teach Me To Tango'
4. 'Waiting For The Tide To Turn'
5. 'Not Enough Love In The World'