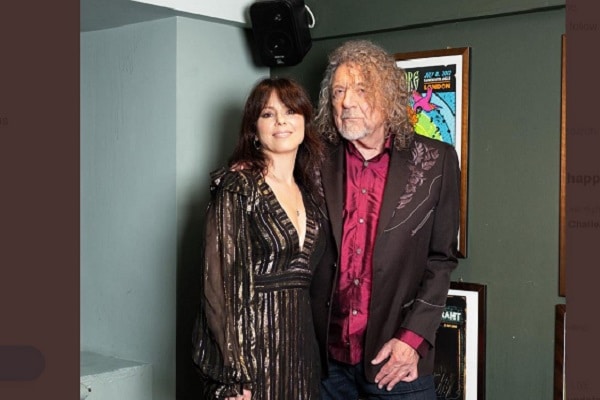 Imelda May joined Led Zeppelin's Robert Plant on stage for a live R'n'B cover of classic rock track 'Rock And Roll'.
The pair performed this track as part of a three song set performed by Plant on a special 30th anniversary edition of Later….With Jools Holland Holland.
Recorded last month, the show also included live performances from artists such as Richard Hawley, Celeste, Seasick Steve, Poppy Adjudha, Michael Kiwanuka, Eliza Carthy and Gogol Bordello.
The Joy and Benjamin Clementine also featured on the show.
To mark the special occasion, the iconic BBC show was moved from its regular host venue at London's Alexandra Palace Theatre to Hammersmith's Eventim Apollo.
Along with 'Rock 'n' Roll', Robert Plant also performed covers of Ray Charles' 'Lonely Avenue', and Chuck Willis' 'I Wanna Feel So Bad'.
Check the May/Plant collaboration below.
Speaking of Led Zeppelin, Robert spoke about how one rehearsal session assured him that the band were destined for greatness.
Imelda May & Her New Album 
Last year, Irish singer Imelda May released her latest album '11 Past The Hour'. 
Speaking about the album, May revealed that she tapped up U2 frontman Bono for advice, before releasing this record. It also featured a collaboration with former Oasis guitarist and singer/songwriter Noel Gallagher.
"I've only got a handful of people that I will ask when I really don't know what to do. He (Bono) is one of those people for me, that I know will give me an honest opinion which is always great to have", Imelda said. "He's brilliant, he encourages me and lots of people".
"I just couldn't get it right. That's when I called Bono", Imelda added.
"I said to him, 'Am I flogging a dead horse on this? Because I'm very close to just throwing it out and starting a different one".
"And he said 'Don't get rid of that song. You're on the right track. I had the title as 'Don't Be Afraid to Love' as the main title and he (Bono) just said 'Maybe make that more positive, maybe 'Made To Love' instead".