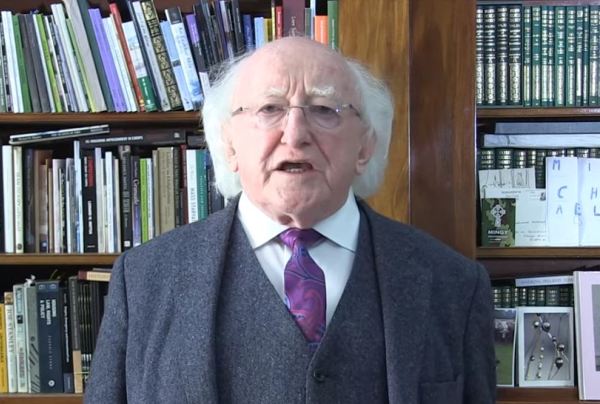 Van Morrison is among many celebrities honouring President Michal D Higgins' 80th birthday on TG4 next Sunday (18 April).
Other musicans to take part in the event with Morrison are TG4 Ceoil musican of the year Laoise Kelly as well as Tullamore musican Tolü Makay. Musical duo Steve Cooney and Iarla Ó Lionáird will also take part.
Former president Mary Robinson, will appear on the show alongside Druid director Gerry Hynes. As will former president of NUI Galway Gearóid Ó Tuathaigh.
Playwright and director Darach Mac Con Iomaire will also help to pay tribute to President Higgins on his birthday.
You will be able to see this show on Sunday April 18 (The President's birthday) at 9 30pm on TG4.
"Sparks fly"
Speaking ahead of the upcoming celebration, TG4 had this to say.
"Sparks fly when former De Dannan stablemates Frankie Gavin & Mairtín O'Connor team up, in Galway Town Hall Theatre, to tear asunder some sparkling reels and invoke the sound of the city of the tribes!".
"The next generation of Irish talent are represented by two of the finest singers on this Island who come together for a vocal duet from the Claddagh in Galway on 'Óró mo Bhaidín'". 
"Sibéal Ní Chasaide first rose to prominence as a 16-year-old when she performed 'Mise Éire,' as part of the 1916 Centenary commemorations".
They also added, "Séamus Ó Flatharta received great attention with his sister Caoimhe for their unique take on a Sean-nós song 'Eleanór na Rún' on TG4's Fleadh 2020″.
"The clip went viral. It has been watched over 300,000 times with Séamus counting Imelda May amongst others as a fan".
President Higgins' love of music, song & poetry
President Michael D Higgins has often been praised for his support for those on the fringes of society. He has also supported those within traditional Irish music.
TG4 have also said that this documentary will highlight the president's love of music, poetry, dance, song, language, theatre and protest.
They also said it will serve to reflect his support of the values of active citizenship and a caring community. It will also highlight his committment to equality, LGBTQ, human rights, language rights and travellers's rights. It is to also pay tribute to his part in the struggle for gender equality from the 1970s to today.
The president also paid tribute to Prince Philip who passed away today aged 99. More here.