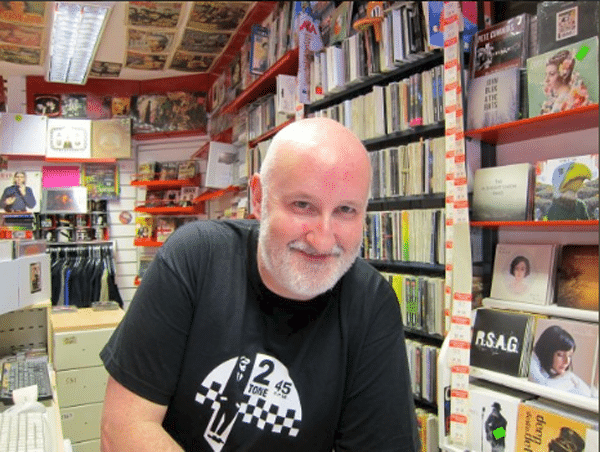 The man behind 'Rollercoaster Records' Willie Meighan has passed away this morning, after a battle with cancer. He was just 48-years-old.
The Kilkenny People have reported that Willie passed away with his family by his side, including wife Aisling Hoy, who married Meighan only a few weeks ago.
Meighan managed and owned Rollercoaster Records' after working there for many years. Sea Keane of the publication, made a moving tribute to Meighan this morning:
"Willie started working in the Top Twenty shop in 1990 having earlier done work placement there when he was attending CBS secondary school. It was his dream job. He was managing it within a few months and, in 2003, he took it over with Darragh Butler (formerly of the band Kerbdog) and they renamed it Rollercoaster."
So very sad to hear the news of @willie_meighan passing today. Thinking of your friends, family and all at @Rollerkilkenny – the happiest little record shop in the world. RIP x pic.twitter.com/EFyrmwJEwm

— Record Store Day UK (@RSDUK) November 28, 2017
"Willie didn't really consider people who came into his store on Kieran Street as customers, they were more like his friends."
"Many of those who bought records there said it was like going into a pub, because you were always bound to meet up with someone with similar musical tastes and it was this special atmosphere, camaraderie, a place where people could just came in and chat."
In an interview with The Irish Times before he died, he said:
Rest in peace @willie_meighan. You were a true gent and one of a kind. Love to all @Rollerkilkenny x

— Tower Records Dublin (@TowerDublin) November 28, 2017
Thank you for everything Willie. RIP https://t.co/qtf1T73gYu

— All Tvvins (@alltvvins) November 28, 2017
"It's corny, but we'd consider a huge amount of customers to be friends too and would hope the feeling is reciprocated. We've got a ridiculously loyal bunch of customers and I certainly think there's a much greater awareness of shopping local in recent times."
a man who loved music & simply wanted to see it thrive, Willie Meighan was a rare soul who helped me in the beginning just like he helped so many others. So sad to hear, Kilkenny won't be the same. RIP https://t.co/G3cohLOq3O

— James Vincent McMorrow (@jamesvmcmorrow) November 28, 2017
"The community ethos of record stores is very much alive and well and the ones still standing are those that always went about their business the right way."
Willie asked people to share their memories of him on Facebook and received over 1,000 responses. Today people have been tweeting their memories and respects to Meighan including James Vincent McMorrow and All Tvvins.
Sincere condolences from all of us here at Nova.
Feature Image: @thethinair