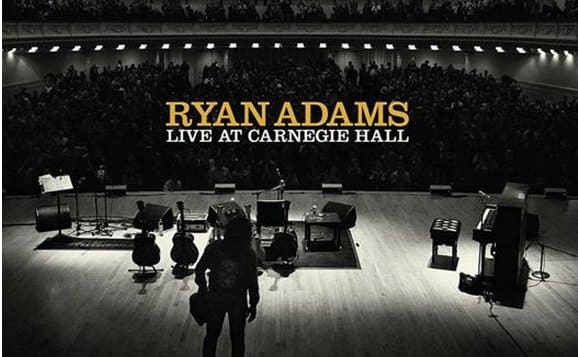 The very prolific singer-songwriter Ryan Adams is back again with a live album titled Ryan Adams: Live At Carnegie Hall.
It's a 6xLP vinyl box-set featuring 42 tracks, the bad news is the first pressing sold-out, the good news is that Adams' putting out a second pressing.
In November 2014, He played two nights at New York's famous Carneige Hall, which is often seen as the pinnacle venue for an artist to perform at.
The 42 track collection includes two previously unreleased songs 'How Much Light' and 'This Is Where We Meet In My Mind'.
The singer will also be putting out a digital version of Ryan Adams: Live At Carnegie Hall, although it will be a stripped down version featuring only 10 of the 42 songs.
Ryan Adams: Live At Carnegie Hall vinyl box-set will be available from April 21st and the digital version is expected to be June 9th.
Earlier this month, Adams performed at Dublin's Olympia Theatre, so this might be a perfect LP if you want to relive that night.
Actor Johnny Depp and Ryan Adams recently released a collaboration EP titled No Shadow in January.
Check out the full track list below.
Side One
01.    Gimme Something Good
02.    Oh My Sweet Carolina
03.    Damn, Sam
04.    My Winding Wheel
Side Two
05.    Trouble
06.    Nobody's Girl
07.    On Broadway
08.    Halloween
Side Three
09.    New York, New York
10.    Please Do Not Let Me Go
11.    Rats In The Wall
12.    Why Do They Leave
13.    Sylvia Plath
Side Four
14.   Crossed-Out Name
15.   This Is Where We Meet In My Mind
16.   If I Am A Stranger
17.   Amy
Side Five
18.   English Girls Approximately
19.   Avenues
20.   Come Pick Me Up
Side One
01.    Oh My Sweet Carolina
02.    My Winding Wheel
03.    Dirty Rain
04.    My Wrecking Ball
Side Two
05.    New York New York
06.    Friends
07.    Am I Safe
Side Three
08.    Ashes And Fire
09.    Gimme Something Good
10.    Why Do They Leave
11.    Off Broadway
12.    The Hardest Part
Side Four
13.    The Rescue Blues
14.    Lucky Now
15.    Dear Chicago
16.    Desire
17.    How Much Light
Side Five
18.    Firecracker
19.    Kim
20.    Call Me On Your Way Back Home
21.    Black Sheets Of Rain
22.    Come Pick Me Up