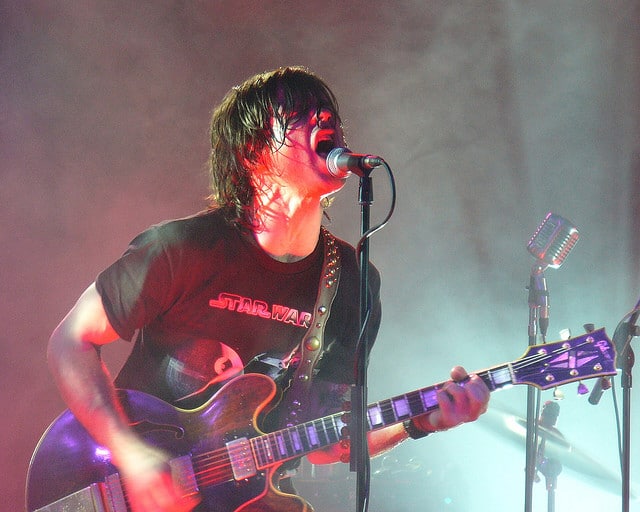 Ryan Adams has announced two Irish dates in Dublin & Cork for March 2015, tickets are on sale tomorrow morning.
The singer is hitting Dublin's Olympia Theatre on March 5th and tickets for the show are available at 10am on Friday October 24th.
Adams released his self-titled album on September 5th, it was the singer-songwriter's fourteenth record, and his first LP in three years since Ashes & Fire in 2011.
Adams produced the new album at his Pax-Am studios in Hollywood, Los Angeles. The first single from the album is 'Gimme Something Good'. In the song's video, Adams is joined by the one and only Elvira.
The singer has shared another new video for the track 'My Wrecking Ball'. The second  single is a departure from his first single 'Gimme Something More'. The first song the singer debuted was a classic rock n' roll tune, the latest track is a return to a classic sounding Adams.
In the intervening years since his last record, Adams has released an EP 7 Minutes In Heaven, with his side project punk rock band Pornography, as well as working as a producer on Fall Out Boy's EP PAX AM DAYS.
He also unexpectedly released a new 10 minute EP titled Jacksonville. It is yet another EP from his ongoing PAX-AM Singles Series. The three-track, 10-minute EP sees Adams meld elements of country and blues.
Ticket Information:
March 3rd: CORK, Cork Opera House
March 5th: DUBLIN, Olympia Theatre
Tickets for both shows are priced €39.05 / €44.05 incl. booking fee and are on sale this Friday at 10am from Ticketmaster outlets and online at www.ticketmaster.ie
Ryan Adams track list:
Gimme Something Good
Kim
Trouble
Am I Safe
My Wrecking Ball
Stay With Me
Shadows
Feels Like Fire
I Just Might
Tired Of Giving Up
Let Go